Under the bright lights and ornate crafted ceiling of the famous Shea's Theatre stood the future of Buffalo. The startups celebrated last night at 43North, the largest business plan competition, were a symbol of our city's collective capabilities, innovation, and resilience. They will be Buffalo's future.
The eight winners, whittled from a group of 16 finalists, were announced as follows: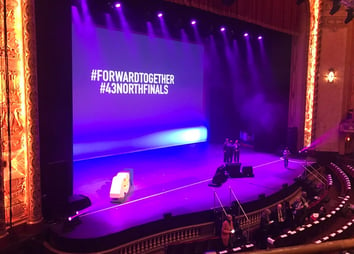 Burner Fitness: $500,000
Femi Secrets: $500,000
Kangarootime: $500,000
Suncayr: $500,000
TARA AI: $500,000
Qidni Labs: $550,000
Squire: $650,000
SomaDetect: $1,000,000


43North came out of the Buffalo Billion initiative and is in its fourth year. The competition awards monetary prizes to winners and in exchange the companies must locate in Buffalo for at least one year. After that, the hope and often reality is that they've grown in Buffalo and fallen in love. These eight winners will create the next wave of innovation in our region and lead the charge of entrepreneurialism as so many of their predecessors have and still currently are.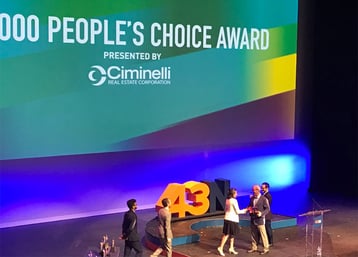 The grand prize winner SomaDetect is an agricultural technology company that provides dairy farmers with key milk quality indicators. With SomaDetect, farmers are intimately connected with every cow they milk, enabling them to identify problems early, make informed decisions and produce the best possible milk. Their presence in Buffalo will be more than welcome, as our region boasts such a strong already existing dairy ecosystem.
43North received 502 applicants, eventually narrowed down to 132. But the day started with 16 finalists. In the morning and throughout the afternoon those 16 finalist companies pitched to a group of judges. Three local Buffalo companies were in the group: Burner Fitness, Cellular Preservation Technologies, and Rachel's Remedy. Burner Fitness ended up winning $500,000.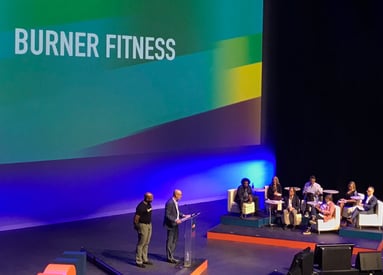 The afternoon crowd was filled with students from across the region getting their first lesson in entrepreneurship. After the pitches, the field was then whittled down to a group of 10 companies to pitch in the evening, vying for the eight prizes.
That is when the packed crowd of 3,000 at Shea's got a Shark Tank-esque show jam-packed with excitement. Ten high-energy pitches ensued, followed by intense Q&A sessions from the respected panel of judges. But now the real fun begins as these companies start to grow and hire within our region. The economic development ramifications are filled with so much potential.
"Buffalo is the heart of this country" TARA-AI
The night was opened by past 43North winner and huge success ACV Auctions. They're one of the best testaments to this competition and Buffalo's ability to foster a startup company. To open the show, they brought out the 100 employees that they've already hired in Buffalo, with hundreds more to come. The job growth within our region is the textbook definition of a successful Buffalo startup company.
The lasting quote from their leadership team's opening:
"Buffalo is a community in motion, and we're going to stay in motion because eight new stories begin tonight."
The future along the 43rd latitudinal line as it intersects Buffalo, New York is bright—and it is just beginning.