43North will host their fifth Finals event on October 3 at Shea's Performing Arts Center.
Ten different startup companies will pitch to a group of esteemed judges in a Shark Tank-style night full of fun. This year, eight awards will be given out. Seven companies will win $500,000 and the grand prize winner will take home a $1 million check. The winning companies will relocate to Buffalo in January of 2019 to join our startup community. They will receive free incubation space for the first year.
The companies chosen to pitch live on stage at Shea's will have already gone through a vigorous vetting process. They're companies with high-growth potential and, in most cases, have already raised significant capital. Two of this year's already announced finalists call Buffalo their home.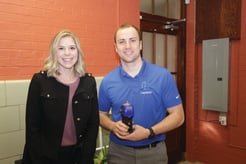 LegWorks, a company Invest Buffalo Niagara attracted to Western New York from San Francisco, is among the semi-finalists for the competition. LegWorks creates affordable and durable prosthetic knees for those in the developing world, in which 9 of 10 people cannot afford the device they need. They are "enabling amputees globally to walk with confidence."
Co-founder Brandon Burke has greatly appreciated the entrepreneurial ecosystem since relocating to Buffalo Niagara. Watch the following two quick videos for more information.
---
"Since relocating to Buffalo, something we've really appreciated is the sort of blue-collar tech mentality to the entrepreneurial ecosystem here and that's really resonated with our company and our approach." -Brandon Burke
---
43North success stories are plentiful. Since winning the grand prize, ACV Auctions has grown rapidly, hiring hundreds of employees in Buffalo. Past winners will also have new chances at follow-on funding.
This year's crop of contestant is sure to be competitive and yield great economic growth for the Buffalo Niagara region.
And the grand prize winner is…..
Find out October 3.