Buffalo Niagara residents know how to enjoy the good weather. If there's a patio to sit on, we're there with a beer. If there's an outdoor movie to watch, we're there with a chair. And if there's a smooth, freshly paved piece of pavement, we're there with our bike, ready to coast along in the breeze.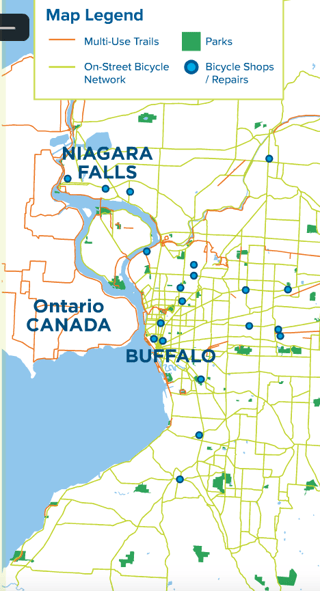 The biking community in Buffalo Niagara has grown significantly of late. There are different opportunities to ride constantly. GObike Buffalo is a comprehensive resource for both the casual coaster and the competitive rider. In the last several years, the region has added over 60 miles of bike lanes.

"Our biking community has an incredible diverse network of interests," said Alison Merner, communications and outreach coordinator for GObike.
---
"The scenery is beautiful"
--Alison Merner, GObike Buffalo
---
Buffalo Niagara has the diverse biking assets to match. In downtown, there is increasing bike infrastructure being prioritized daily. New bike racks, roads, and safety measures can be seen everywhere. Bike-friendly Canalside and Outer Harbor linked up with the addition of a Bike Ferry. For just $1 you and your bike can hop on a boat that takes you across the water for a new adventure.
Recently, the Reddy Bikes of Buffalo celebrated their one year anniversary. It's a bike sharing platform for those across the city that want to avoid parking or prefer two wheels to four. Reddy has over 200 bikes in more than 25 racks and locations. They are strategically placed around the city to always be of convenience.
Buffalo has also seen a surge of Pedal Tours in the area. A group of people ride around on a bar that moves from each pedaling. They make stops at local watering holes and have a few drinks in between, too.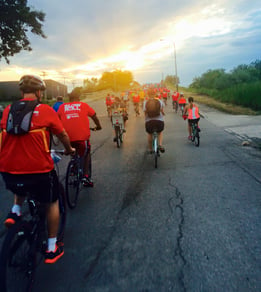 There are more regular events in the region, too. Slow Roll has become a weekly staple. It's an organized weekly roundup in a different location, with a bike ride and social time after for drinks. Slow Roll is one of many events in the region that are constantly taking place throughout the week.
In our more suburban and even rural communities, the beauty is unmatched. Merner's favorite spot to bike is in some of those areas.
"The scenery is beautiful, the roads are quiet, and you can just ride for miles," Merner said.
This weekend August 26 in Chautauqua County is the Chautauqua Gran Fondo. The bicycling event is modeled after Italian bike events—hence the 'Gran Fondo' moniker. It is a community event to promote health and wellness. It raises funds for local non-profit organizations. Cyclists of all skill levels are welcome to ride, with four different trails of varying length and difficulty.
Biking in Buffalo Niagara is a perfect fit for everyone—the casual cruise or the intense challenge. There's still plenty of time left in the year for a ride, too.