Karl Kolbe was born and raised in Western New York. However, for the last seven years he has been brewing beer in Sacramento, California.
Kolbe worked for a large brewer on the west coast. He asked as many questions as he could, absorbing everything around him. Each bottle was a new lesson, each keg a semester. The years there were an education for Kolbe—a crash course in brewing.
Though craft beers captured his pallet, Buffalo Niagara always had his heart. And earned his business.
Now, Kolbe is taking all that knowledge from the California brewing scene and bringing it back home. His very own Buffalo-based brewery, Pressure Drop Brewing, is product of it all. Equipment was just installed, as shiny as promised. First will come kegs, with cans a few months down the road.
Buffalo offered his new brewery a higher market share. In California, the quantity of breweries is dense. Though the Buffalo scene is growing, opportunity remains.
The new brewing company is in the Barrel Factory in the Old First Ward. Their neighbors are appropriate, to say the least—a distillery, winery, restaurant, and kombucha tea brewer (And a kayak rental company, but they don't fit the narrative as nicely). The space is an adaptive reuse building, with possible room for expansion. The shared tasting room preserves the history of the 1903 building and presents the future of an energetic open concept space in which quality is prized and passion present. The building captures a bustling history along the railroad and water, of a time when Buffalo was an epicenter of shipping and destination for those daring to see the City of Light.
"I love the aesthetic," said Kolbe. "It is a maker's paradise."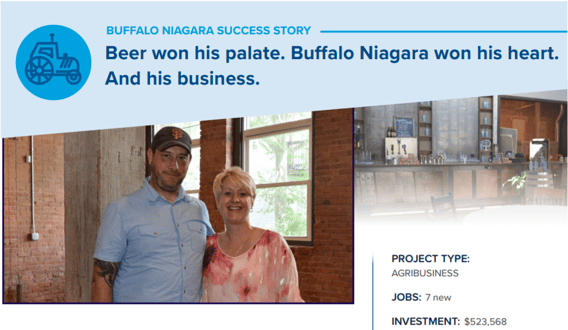 Since making his intentions known in Buffalo, Kolbe has been accepted with open arms by the local brewing scene. He has been happily surprised by the harmony. He's even experienced it on his own block. Right across the street from the Barrel Factor and Pressure Drop Brewing is famous Buffalo watering hole Gene McCarthy's. Kolbe said the team there has been not only welcoming, but ecstatic for their arrival. They think the arrival of Pressure Drop will just bring more foot traffic to the famous Old First Ward, rising all boats. The hope is it will become a destination for bar hoppers (Which anecdotally, is true, as I myself grabbed dinner and a drink at Gene McCarthy's before heading over to the Barrel Factory for a drink from Lakeward Distillery).
"Buffalo brewing is super collaborative," Kolbe said. "We could teach California that. It really is the City of Good Neighbors."
He has visited with many local brewers, again asking more questions and learning the specific drinking demographic of Buffalo. There are habits and rituals to appreciate. In California 22-ounce bottles were popular. You'd sit back on a hot day and take the afternoon to sip it in. Buffalo is more of a can town, Kolbe said. He intends to produce "big, bold beers." They'll be IPA heavy with a high alcohol content. Kolbe's partner describes him as a "magician" in packing a high alcohol content in a tasty beer. He hides it underneath the waves of added aromas.
Kolbe has 40 recipes and Pressure Drop Brewing intends to make eight beers at a time, alternating seasonally. They'll be selling kegs to local bars and will be the sole distributor at the Barrel Factory.
The best part of the new Pressure Drop Brewery, not the building, barrels, or beer, is its hometown, Buffalo.