Buffalo Niagara is a hub for back office operations, and the industry is only continuing to grow. There are currently 16,000 employees in back office operations in Buffalo Niagara. Companies locate and hire here because of the large talent pool, affordable cost of living, and easy lifestyle.
The Eastern Standard Time allows back office operators to reach much of the world's customers during normal business hours and the lack of a strong regional accent and access to bilingual employees makes communicating even easier.
While the back office cluster in Buffalo Niagara is ascending, you don't have to take our word for it. We assembled some of the top names in Buffalo Niagara banking for a round-table on the viability and future of their industry.
Contributors include:
Jennifer Gibson, Senior Vice President, Northwest Bank
Michele Trolli, Executive Vice President & Chief Technology and Operations Officer, M&T Bank
Gary Quenneville, Upstate New York Regional Executive, KeyBank
Kevin Quinn, Managing Director, HSBC Bank
---
What's Buffalo's greatest strength for back office and financial institutions?
Jennifer Gibson: Taking care of our customers starts from within, and we have a diverse group of employees with an exceptional work ethic. They work diligently to put our customers first and ensure their needs are met—whether they're opening a checking account, buying a home or opening a business.
Michele Trolli: Buffalo has a long history within the banking industry. M&T, for example, was established back in 1856 when Buffalo's economy was thriving with manufacturers and traders as a commercial hub on the Great Lakes and Erie Canal. Our work force is a great strength for us. We are fortunate to be able to hire from a local pool of talent with back office experience in banking and outstanding work ethics.
Gary Quenneville: At KeyBank, we are lucky to have a workforce that is engaged and focused on helping our region thrive. In fact our Western New York Region enjoys some of our highest employee engagement levels in our company. There are many excellent colleges and universities from which to draw talent from. Workforce development and training are also a big priority here. The region's recent renaissance has been a plus, as well. Currently, we are seeing interest from candidates from other areas of the country who want to come here to live and work. Word continues to get out that Buffalo is a great place to live and a great place to do business. That's really helped us attract talent from outside this area, from much bigger cities even, that in the past, might not have entertained the idea of coming here.
Kevin Quinn: The talent pool is a significant factor. HSBC has a material presence in the market as do many of our competitors. That presence provides a ready pool of highly-skilled individuals with valuable industry expertise. It's not unusual to find employees with 20, 30 or even 40 years of industry experience within one or more of the major financial institutions. A second and equally important factor is the cost of operating in Buffalo relative to other major US markets.
---
Why has your company found success in Buffalo Niagara?
Jennifer Gibson: Buffalo is a great place to work and do business, and being here has greatly contributed to our success as a company. Buffalo is truly "The City of Good Neighbors" and we're proud to be a part of all the great things that are happening right now in and around the city—from the redevelopment of the east side to the booming area downtown.
Michele Trolli: We've been able to hire good people and we've also formed a strong bond with the Buffalo community. M&T operates with the belief that for the bank to do well, our communities must also do well. So we are very active in supporting the community from both a philanthropic and a volunteer standpoint. We have more than 7,000 employees in Western New York and encourage them to establish local community relationships that are meaningful to them. We've even formalized that by providing all employees 40 hours of paid time off each year to be used specifically for community service.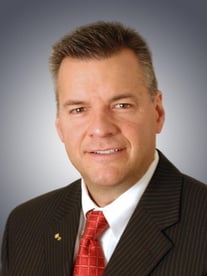 Gary Quenneville: KeyBank has always had a lot of success and growth in Western New York. That growth was amplified and multiplied by our 2016 acquisition of First Niagara Financial Group. While that allowed us to firmly plant our flag here and establish our Northeast Regional Headquarters in Larkinville, it has also given our employees wonderful opportunities to grow and give back to this community. We are now able to have career conversations with our employees and put them on a path where they don't have to move away to have a successful, rewarding career. Our employees, their engagement and pride in KeyBank and Western New York, and our company's willingness to invest here, are the biggest reasons why we've found success here.
Kevin Quinn: Buffalo was the site of HSBC's first U.S. acquisition – Marine Midland Bank. That acquisition provided HSBC a solid, reputable and long-standing franchise with good market penetration. HSBC is a $2.5T global bank with tremendous product breadth and depth. We've leveraged those capabilities to further support our market presence. Our strength is servicing international banking needs. Buffalo's location on an international border and proximity to major U.S. markets like New York City and Chicago suits us well.
---
What is your experience with the back office workforce in Buffalo Niagara?
Jennifer Gibson: We're fortunate to be in Buffalo, where there are a lot of talented people. It's made finding and filling back-office roles easy. People are looking for opportunities with a successful, fast growing company like Northwest and we're lucky to have such a great team.
Michele Trolli: Our experience is the workforce has evolved with the economy. Where Buffalo used to a big manufacturing city, the local economy has evolved with the growth of service industries, such as financial services and health care. Banking itself has become much more centered in technology over the last two decades and we're fortunate to have a strong base of colleges and universities to recruit from. The University at Buffalo has a very diverse student body, including a large number of international students, and we have a strong group of private colleges here. We recruit locally, and across our footprint, to fill our growing team of information technology specialists.
Gary Quenneville: We've had a great experience with our back office workforce in Buffalo Niagara. We chose to base our contact center, mortgage, auto lending segments, and some other miscellaneous back office functions here following our acquisition of First Niagara and they continue to grow and do well. We are fortunate in that our employees take pride in KeyBank and take pride in Buffalo Niagara. Whenever we ask them to step up and help out, be it for KeyBank or to support a cause here, they always come through and that is very gratifying to see.
Kevin Quinn: HSBC continues to supplement our Buffalo-based workforce and we have recently relocated some positions from higher cost U.S. markets to Buffalo. We currently have about 3,000 employees based in two office locations. Our Buffalo operations serve as the back office engine for many of our North American businesses. Every function present in any major commercial bank operation is present in HSBC's Buffalo offices. That speaks to the confidence we have in our Buffalo-based team, as well as our ability to continually recruit and source highly-skilled talent. Our most valuable asset is our employee base. We're fortunate to have a very loyal, engaged and innovative team. The ability to better manage work life balance in Buffalo relative to other major metropolitan markets plays a big part in employee engagement and satisfaction. Many transplants from other U.S. and international markets comment on the relative ease of daily commutes and the resulting higher quality of life.