Adam Schunk
Software Engineer, CUBRC
The Buffalo that Adam left behind as he packed his bags and left for college in Illinois was a lot different than the Buffalo he returned to.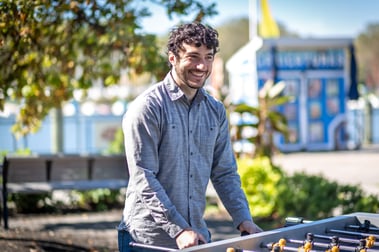 "I didn't intend on staying in Buffalo," Adam said. "When I left for college, it was a very different place."
But, during one of his semester breaks back home, he landed an engineering internship with CUBRC. His eyes started opening to the new Buffalo. He left again, this time for graduate school in Waterloo, Ontario. And again, he was called back.
He landed a job with CUBRC, after impressing through his internship. Now, he's working on machine learning projects for United States military simulations.
"We solve a lot of interesting problems," Adam said. "It's an awesome job—it keeps you busy for sure. In the tech space, everyone is trying to hire talent as fast as possible. Anyone new to Buffalo in tech should apply for jobs and you'll definitely get an interview. There's a lot of opportunity and leverage." ​ ​
What do you like to do for fun?
In the winter I'm skiing at Holiday Valley. In the summer, I'm water skiing all around.
What is Buffalo's best kept secret?
Buffalo isn't a town of many secrets. We're loud and proud of our city.
I will say all the diverse food spots are amazing. I'm always trying something new.