Economic Development Week is a great opportunity each year to share our story and the stories of our partners throughout the community. We are grateful to everyone in our region helping to better Buffalo Niagara. We're also so proud to represent this great region, especially during such an exciting time as we are amid a renaissance recognized on a national scale.
In celebration, our team was out and about touring successful companies in each corner and every county of Western New York. As advanced manufacturing continues to be a pillar of our economy, we chose to focus much of our efforts on that industry.
Below are some takeaways.
Cummins Jamestown Engine Plant
The Cummins Engine Plant in Jamestown is 1 million sq. ft. and placed on 100 acres of land. They currently employ 1,700, hiring 400 temp-to-permanent positions in just the last year. The workforce is dedicated, as this year Cummins has celebrated 27 different employees passing 35 years of service time with the company.
It's a testament to the workforce in our advanced manufacturing industry, and one we hear often from employers.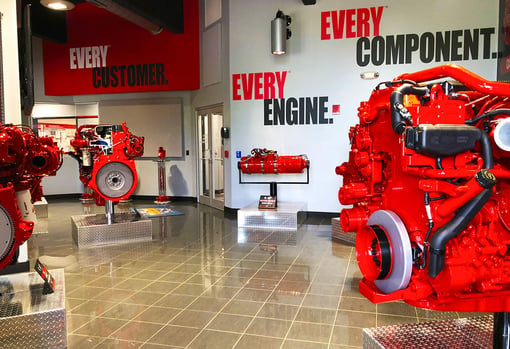 MicroArt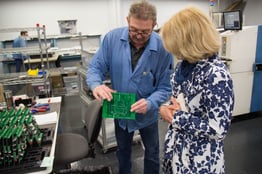 At MicroArt, the sentiment was echoed. As a recent expansion to the region from Canada, MicroArt is at six employees and extremely happy with the growing team.
The company prints circuit boards within the electrical equipment and components sector.
Voss Manufacturing
At Voss Manufacturing, a tooling and equipment producer, we heard more of the same. Their staff is up to 100 employees, often leveraging BOCES services for skilled trade workers. The team is also excited to utilize graduates from the new Northland Workforce Training Center.
Aakron Rule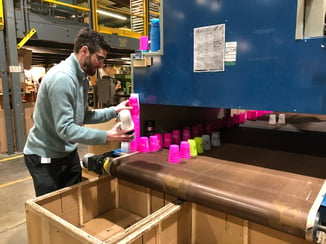 At Aakron Rule, we put Alan Rosenhoch, our director, business development, domestic to work stacking cups as they came off the line. Aakron Rule manufactures these cups, as well as other plastic promotional material and wooden rulers, which the company was originally founded on. We recently helped Aakron Rule with an expansion project, retaining local jobs that were at risk of leaving the area and adding additional to the new square footage.
Today, the company is at 86 employees.
Charcoal Corral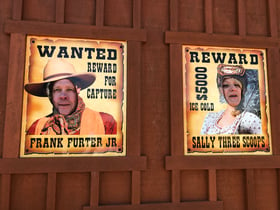 While visiting the sites of the first hotel in Wyoming County and an exciting new glamping location on Silver Lake, we couldn't help but stop by the Charcoal Corral.
This former cow pasture turned drive-in, eatery, mini golf course, ice cream parlor, pizzeria, and family arcade was a sweet finish to Economic Development Week.
Woodcock Brothers Brewing
It wouldn't be Economic Development Week if we didn't celebrate a bit! We'll let Woodcock Brothers tell their story: "One crazy idea. Two brothers and their awesome wives. One old, kick ass cold storage building in a historic town. And a lot of good beer. That pretty much sums up who we are."
The brewery has two facilities: One in Wilson and the other in Tonawanda. Between the two, Woodcock employees 50 people and brews over 20 flavors of beer.