Ding! Ding! Ding! Ding! Ding! Ding! Ding! Ding!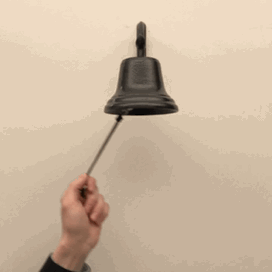 The ring of the bell that sits mounted to the wall of our InBN office is music to our ears. It is the collective exhale of a dedicated group of individuals working tirelessly over months to revitalize our region and replenish its workforce. It indicates one of our projects has officially decided to come to or expand within the Buffalo Niagara region. It signifies a win.
On any given weekday between 8 a.m. and 5 p.m. the bell at Invest Buffalo Niagara might ring. Days on a project turn into weeks, and weeks turn into months, but our devoted business development managers ensure that our bell never gets dusty. Though our tasks vary day-to-day, our goal always remains to ring that bell.
Last year we logged 17 wins, nine of which came from Canada. We hone in on several industries, including advanced manufacturing, agribusiness, and life sciences, scoring multiple wins in each of those categories last year.
The ring of the bell harmonizes with the elation of our team, composing a symphony reserved for only the most special of occasions. This year in 2017, we've had the honor of ringing the bell four times.
---
Project Compass: This January win was the expansion of Northwest Bank's regional headquarters and training center. Our team assisted with the incentives process that helped finalize the project to include $1.5M in investment and 115 new jobs for the region. This is the 55th advanced business services project we have worked on.
Project Rudder: Regatta Sport, a Canadian logistics/distribution company that sells competitive rowing gear and equipment, is investing $18,500 and adding a few new jobs to the Buffalo Niagara region. After we completed a site request broadcast, they toured three sites and selected one of those sites in the region. This was the first of two February bell ringers. We have worked with almost 100 international companies, most of which are Canadian.
Project Corey: CI Filing Systems is a manufacturer of custom-made index tabs, file folders, file backs, and legal dividers. Due to digitalization and the overall decline in use of office products, they were acquired by Permclip in February. Our assistance with this consolidation included an allocation of low cost hydropower and brought $4.7M in investment and 80 new jobs to the region. Advanced manufacturing is the industry we work with most, capturing about one-third of our total wins.
Project Kick: The Oliver Hazard Brewing Company is a start-up in the agribusiness sector that is investing over $500,000 and adding seven new jobs to the region. InBN guided this new business through the start-up process, introducing them to local experts, helping build relationships with utilities and banks, and assisting with human resources, permits, and licenses. Agribusiness is one of our five focus industries with increasing interest in the region for breweries.
---
During the week of May 8, economic development organizations all over the country will celebrate Economic Development Week 2017 in collaboration with the International Economic Development Council. InBN, together with our county partners, will participate by educating the region on the economic development process and its importance. Stay tuned to our blog in the coming weeks as we celebrate economic development and share more behind-the-scene activities.