Winter in Buffalo Niagara is a wonderland. It doesn't keep us indoors, but rather, pushes us to conquer the elements, incorporating the snow and ice into our own fun activities. The seasonal range is one of the best perks of living in Buffalo Niagara.

So, what is our team's favorite activity to do during a winter in Buffalo Niagara?

Tom Kucharski – President and CEO

Snowshoeing in the parks along the lake.

Sarah Larson – Marketing Manager

Ice skating in my backyard or at The Rink in East Aurora.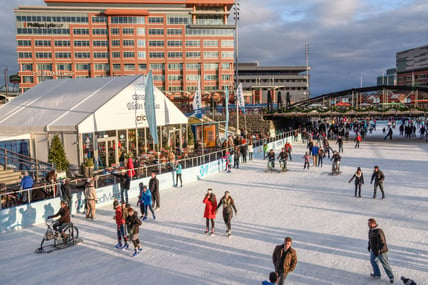 Greg Pokriki – Content and Digital Marketing Associate
I love a good old-fashioned sledding trip. Something I do want to try this winter, though, is curling! I always admire from a far during the Winter Olympics and I finally want to throw my hat in the ring (or rink, rather).
Carolyn Powell – Business Development Manager
Skiing at Holiday Valley and Kissing Bridge and then enjoying a nice cup of hot coco next to the fireplace.
Alan Rosenhoch – Director of Business Development
When it's cold enough, pond hockey in Delaware Park (or a backyard rink, if you've got a friend who's industrious).
Casi Hall – Graphic Designer
Ice skating. I like to make it out to a rink once or twice a season, but having been away from Buffalo for ten years, I've never seen nicer outdoor rinks than at Canalside and Fountain Plaza. I've got to make it over there soon! Can't wait to try the Ice Bikes, either.
Olivia Hill – Business Development Specialist
Driving around looking at Christmas lights, followed by a stop for peppermint stick ice cream at Sweets on the Hill in West Seneca.
Matthew Hubacher – Research Manager
Ice Skating at Canalside then going to lunch at 716!
Anthony Ciccarelli – Research Associate
Snowboarding at Holiday Valley, with a chocolate covered waffle in hand of course.
Lorrie Abounader – Business Development Manager
Drinking hot chocolate while watching a Sabres game on TV with my family.
Jenna Kavanaugh – COO
Snowshoeing at Tifft Nature Preserve!

Photos by Joe Casico