Food trucks have hitched themselves to the rise of metropolitanism. More and more, people are deciding they want to live in the city. Millennials have flocked downtown at record numbers and food trucks have enjoyed the ride.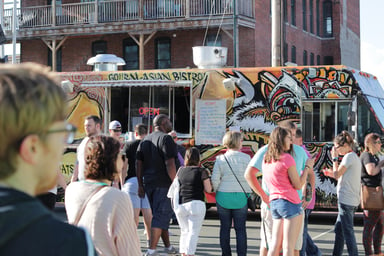 In Buffalo Niagara, the food truck economy is very healthy (and the food is sometimes, too). The area features around 60 different trucks that are always out and about for lunch and dinner. They make special stops at places of high employment, improving lunch breaks and work satisfaction. College campuses are often an appetizing spot to park. A recent graduation party I attended had two trucks parked in the driveway. The Buffalo Niagara food truck community even has their own resource site, listing where each truck will be at what times. Click these words to view!
On summer Thursdays food trucks outline the circle in front of City Hall. Downtown workers flock to get their lunch time fill (I'm counting fill as a truck pun, if you're keeping score). Often times music plays, too.
Of course, the key ingredient missing from this recipe and article is Larkinville. The cultural borough of Buffalo is where this food truck scene truly took off.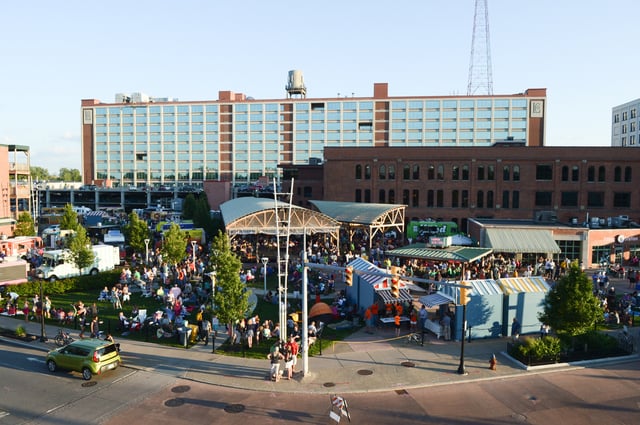 Photo by Nancy J. Parisi
"There are all different reasons why a neighborhood can change," said Leslie Zemsky, director of fun for Larkin Square on a recent episode of our podcast Bell Ringer. "Food truck economics has really been incredible. That really put the Larkinville name on the map."
The idea was first thought of by her son, Harry Zemsky through a text. In the beginning, they started with the four trucks in the area. Week after week, visitors were increasing. They couldn't keep up with the demand, bringing in trucks from Rochester. Eventually, more food trucks started their engines in Buffalo Niagara, parking at Larkinville every Tuesday afternoon. They can park 27 trucks at a time. Halfway through the first year the event added live music. Since, it's been all green lights, solidifying itself as a staple on the Buffalo Niagara menu.
Invest Buffalo Niagara even has a win in the food truck realm. OutFront Portable Solutions originally found success manufacturing garden and retail display solutions. In 2012, the company expanded into Buffalo Niagara, purchasing a 50,000 sq. ft. existing metal fabrication business with eight employees. Since, they've expanded to 40 employees and manufacture salad bars and buffets. They've parlayed that experience into food trucks, fitting and shipping over 50 all across the country.
With the rebirth of Buffalo Niagara has come the birth of the local food truck economy. They're a new, fun way to enjoy a meal. They force patrons to get outside, something many are starving for on their lunch break. Maybe most importantly, they're delicious.