The Invest Buffalo Niagara team continued its outreach to local partners by visiting with Genesee County Economic Development Center (GCEDC) Vice President of Business Development Chris Suozzi, who provided an expert tour of the county's available sites and buildings.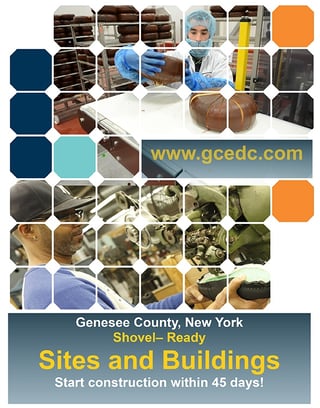 Genesee County is strategically located between Buffalo and Rochester – the second and third largest cities in New York State. The county-seat and largest city, Batavia, is home to Genesee Community College, which enrolls 6,500 students and graduates nearly 1,000 annually. This trained workforce is in addition to the nearly 300,000 students at colleges and universities throughout the Western New York and Finger Lakes regions.

Not only does Genesee County's location provide its businesses access to customers, suppliers, and a trained workforce, it also boasts several shovel ready sites and existing buildings for development. GCEDC's Shovel Ready Sites and Buildings brochure details the vast opportunities for business growth and expansion in the county. Companies from a diverse mix of industries, from large-scale high-tech companies at WNY Science and Technology Advanced Manufacturing Park (STAMP) to small start-up ventures in incubator space at The Harvester Center, and everything in-between, can find a home in Genesee County.

Invest Buffalo Niagara works closely with its local partners throughout the eight counties of Western New York, which is of utmost importance given the local industrial real estate market's historically low vacancy.

Contact Invest Buffalo Niagara to begin the process of growing your business with us.