Through the landscaping and past the stone fountain stands a sign on the property of the Butler Mansion. It reads like your typical sign—arrows to designate direction and words to describe location. But reach your hand out to brush back the intentionally overgrown bush at the foot of the sign. What you'll reveal might surprise you. The last bullet on the sign, a calculated Easter egg for the curious or mistakenly confused, reads "Helipad."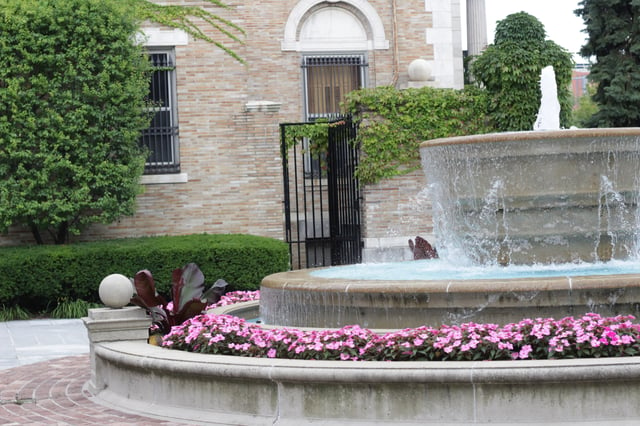 Now, there isn't really a helipad on the property (though I was tricked into thinking the fountain somehow transformed into one). It doesn't exist. But the team at Sentient Science that calls the Butler Mansion home from 9 a.m.- 5 p.m. and often much later than that likes to have fun. The Mansion, secret doors, patio views, and faux helipad are a part of the charm.
"We take ourselves lightly. We take our work seriously," said Ed Wagner, chief digital officer at Sentient Science.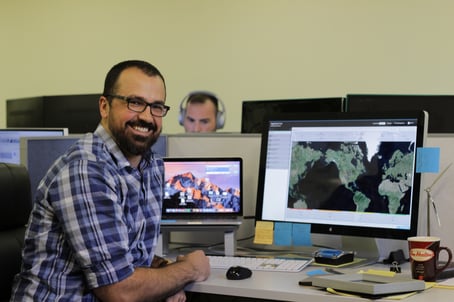 The work Sentient Science is doing is very serious business, too. They're working on the University at Buffalo super computer, a partnership key to their location decision in the area. They are a materials informatics software development company focusing on extending the life of energy assets. Specifically, they monitor wind turbines—over 20,000 across the world. Their technology goes down to the bearing, predicting when failures are bound to happen within the technology. Before this type of work, a wind turbine would wait until it was completely broken, and replace the entire gear box. Now, with Sentient Science's technology, one can analyze which bearing needs replacing, which gear needs replacing, or if it's a matter of additive fluid. Turbine operators can better plan repair projects, as they can become costly with having to turn the machine off for the repair, planning for a crane to go up-machine, and labor to fix the problem. Now, they can bundle repairs together to save more money, or plan them around weather patterns that yield less wind. Their technology is also being utilized in several other industries, including aerospace and defense.
In 2013, Invest Buffalo Niagara and Alan Rosenhoch helped Sentient Science relocate their corporate headquarters to Buffalo Niagara from Idaho Falls, Idaho. Invest Buffalo Niagara facilitated the incentives process, helped identify possible university collaborations, and aided the search for real estate.
Just last month, Sentient Science announced a $22.5 million Series B funding. That investment is going into the constant improvement of the company. Technical, security, and software capabilities will be updated to get the company from 20,000 current turbines to 100,000 and eventually 1 million rotational equipment as more aerospace assets come online.
The employees that work for Sentient Science are a young bunch, partially because the work they're doing wasn't taught in schools much more than five or ten years ago. They're changing the energy field with incredible and innovative technology. They currently employ around 60 people, about half of which are located at the Buffalo headquarters. Soon, Sentient Science will be adding 70 more positions, with several critical hires by September. A large emphasis has been placed on Buffalo location for the new hires, especially in the software development department. These are high-paying and high-skilled jobs coming to the Buffalo Niagara region, many of which are typically found in Silicon Valley or New York City.
In order to compete for and attract that level of talent, Sentient Science knew they needed a unique proposition to prospective employees.
"A small company like ours, instead of growing in a garage in California, gets to grow in a mansion in Buffalo," said CEO Ward Thomas in a previous Invest Buffalo Niagara video.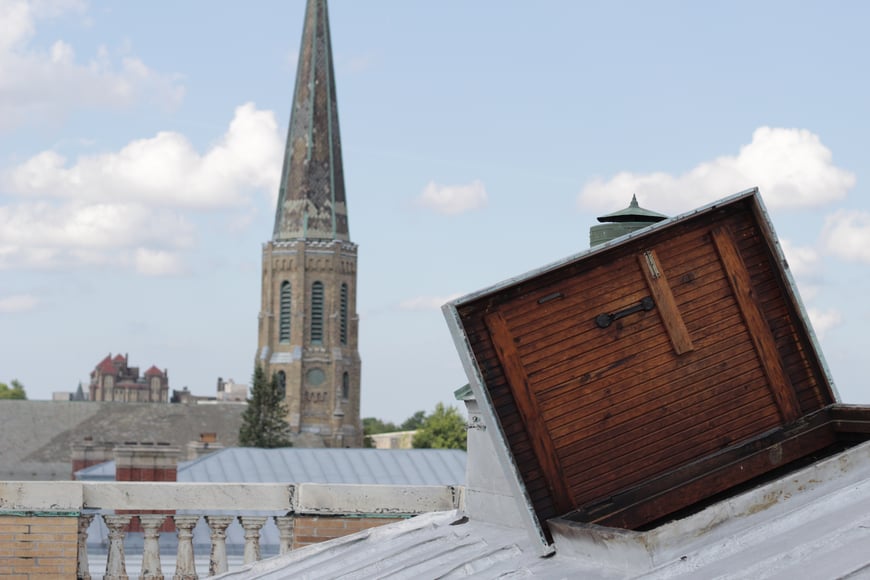 The Butler Mansion has the history and hue to attract almost anyone to work there. President William McKinnley, during the Pan-American Exposition, was on his way to the Butler Mansion for a dinner party when he was assassinated. He never made it to the dinner.
However, plenty of guests did. On their visit, they likely weren't allowed to see the secret safe built into the wall of the dining room. A sly click of a button releases part of the wall to expose a black safe, the code of which not even Sentient Science's brilliant staff have been able to crack…yet.
The Mansion has a gold-plated chandelier worth $300,000, triple what the entire property was worth at the time it was installed. They also have beautiful outside grounds which the surrounding community often walks through. The landscaping is beautiful and fountain flowing.
"The koi pond is very useful for debugging," said Wendy Saglime, software engineer. "If you ever get frustrated with code, you just go stare at fish."
Buffalo, and its outstanding quality of life, has also been a part of that pitch. The combination helped attract Karen Cassidy, the vice president of customer success. She moved from Alabama for the opportunity.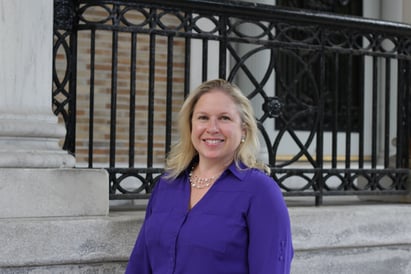 "I didn't even bring my car up," said Cassidy. She lives in the Allentown area, just three blocks from her office and within walking distance of multiple restaurants, museums, live music, coffee shops, and other neighborhoods. If she ever wants to go to the mall, she takes an Uber.
Her love of walkability and architecture have found a perfect balance in Buffalo. "You take a walk and you see one priceless antique mansion and then 'Oh look, there's a castle. Oh look, there's a gothic cathedral.' It's like every block has these amazing buildings," Cassidy said. "It's kind of like a little dreamland to walk around here and bike around here."
Buffalo, Sentient Science, and the Butler Mansion sure do feel like a dreamland. Just one without a helipad.
Photos by Casi Hall