Today, Kevin Cornacchio and crew are hard at work at the new Viatran facility in Tonawanda, New York.

But even as recently as a few months ago that wasn't a certainty. They could have been punching in at a plant in Massachusetts. Or Texas. Or even Malaysia. That is until they were referred to Invest Buffalo Niagara (InBN).

Viatran manufactures pressure sensors and transmitters, servicing a wide-variety of industries. Viatran manufactures new products and repairs legacy products in a rapid environment based on lean manufacturing and advanced electronic commerce capabilities.
Viatran was operating in the Buffalo Niagara region. However, the company's lease was coming due at the same time the division was poised for a significant expansion, making their previous facility inadequate for the growing demand. The local executives, including Cornacchio, president of Viatran, preferred to stay.
"I'm a big believer in finding the value locally," Cornacchio said. Through a real estate broker, he was referred to InBN.
InBN worked with the local leadership in crafting the business case to not only keep the existing jobs, but also capture the expansion. Workforce and demographics data were key in building that case.
InBN also helped navigate the incentives process with Empire State Development to secure significant Excelsior Tax Credits.
With InBN's orchestration and a strong incentives offer, the decision eventually became a no-brainer to not only save the jobs in Buffalo Niagara, but also place the expansion in the region as well.
"The project validates the argument that Buffalo Niagara is a competitive and attractive business destination," said InBN President and CEO Thomas Kucharski.
The efforts saved 55 jobs and created 72 new ones. Those jobs range in skillset and pay grade, creating plentiful opportunities for manufacturers or engineers with the company.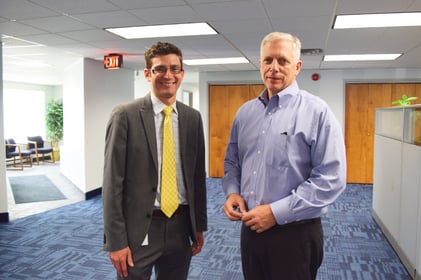 "The workforce of this region is very well acclimated to the sensor technology industry," Cornacchio said. "There are good people coming out of the schools."
He pointed to their current engineers on staff, almost exclusively coming from University at Buffalo or Buffalo State College. For a company that is consistently hiring, they rarely have a problem finding qualified people. Recently, they have been increasing their cooperation with The Charter School for Applied Technologies. It will be a handful of years before the fruits of that labor pay off, but it speaks to Viatran's commitment to Buffalo Niagara and its people.
Viatran's new project in Tonawanda pledged a $1,545,000 capital investment. They have moved in and ramped up production. The site also kept room for further expansion down the line.
"Buffalo Niagara has a lot of great manufacturing companies. There is a wealth of talent and know-how in the area that serves as a competitive advantage for the region," Cornacchio said.