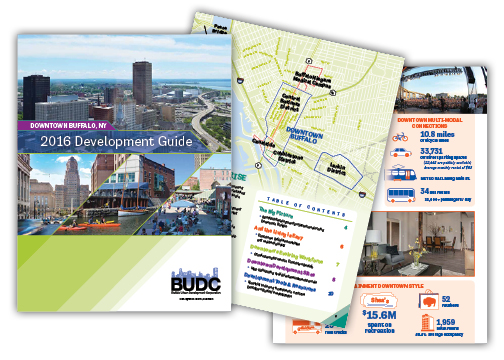 Buffalo is a City on the Rise. The growing Buffalo Niagara Medical Campus and significant development projects such as SolarCity and IBM are driving demand for new amenities and residential living.
Buffalo will add over 12,000 new employees by 2018, the vast majority of whom will locate downtown. The Central Business District's 97% occupancy rate is driving Mayor Byron Brown's goal of completing 2,000 residential housing units in the downtown area during this time frame. Close proximity to major employers, access to public transit, a vibrant restaurant scene and many entertainment offerings make downtown an attractive housing option.
To view development opportunities - including over 20 unique parcels ready for redevelopment - please see the 2016 Downtown Development Guide.
Sponsored by National Grid, the guide is the result of a collaborative partnership between Mayor Byron Brown, Chairman of the Buffalo Urban Development Corporation, Buffalo Niagara Partnership, Invest Buffalo Niagara, CBRE Buffalo, and Buffalo Place.