10 years. 74 projects. $2.3 billion in investment. One thriving downtown that has residents and visitors alike awed by the transformation of "The New Buffalo."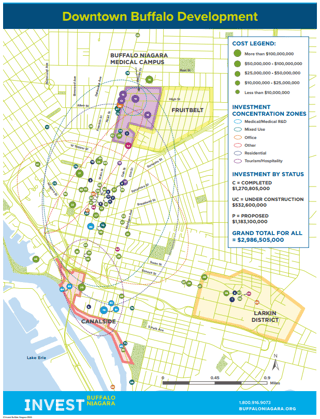 Recent developments, which spread across numerous neighborhoods, include high-end residential units, updated office and mixed-use properties, hospitality ventures and retail stores. The central business district, historic Larkinville, the Buffalo Niagara Medical Campus and the adjoining Fruit Belt neighborhood, and Canalside are all undergoing incredible economic transformations.

Needless to say, change of this nature does not happen overnight, nor without years of hard work and dedication among various stakeholders. Change of this nature also does not happen in a vacuum; rather, it builds on the strength of earlier investments made by those with the foresight to see what was possible and the courage to take the first step.

Adding to the completed projects and those currently under construction are another 15 proposed projects in the early stages of the development process representing an additional investment of nearly $429 million across the City of Buffalo.

So, what are the key takeaways from the development of "The New Buffalo" transformation to which we've had a front row seat?

1) Savvy businessmen and women are betting on Buffalo. Developers and companies are by nature risk-averse, so to have the experience of several dozen projects in completed, under construction and proposed for the future is a testament to the belief that Buffalo is back. There is legitimate excitement about our present and, more importantly, our future — and that excitement is a huge advantage to those of us selling our area to companies and residents looking to expand or relocate to our region.

2) Real estate is a cyclical force. Low vacancy rates are a critical sign of success, but to bring more business and residents to our region, we need more available, affordable commercial and residential real estate options. It's a delicate paradox that demands balance and foresight among the real estate and economic development communities.

3) A healthcare boom has boosted our region's vital signs. Anchored by the Buffalo Niagara Medical Campus and strengthened by companies located in areas across the city and region, health and life sciences continues to be critical sectors for economic opportunity and growth.

Downtown development is critical to the continued economic growth of our region. The 2016 Downtown Buffalo Development Guide features in-depth considerations of specific development projects and Invest Buffalo Niagara's 2016 Economic Guide provides information on the data and drivers of the regional economy.