As you may have read in our previous blogs, Greg Pokriki and I are participating in Leadership Buffalo and Leadership Niagara, respectively.
Each month, we'll give our perspective on the revitalization of our community and some issues we're still facing.
Olivia
Leadership Niagara tackled Criminal Justice in Niagara County this month. The topics we covered were intense, emotional, and eye-opening. We began the day with the Niagara County Sheriff and finished at Niagara County Drug Court, with a jam-packed schedule in-between. We toured the Niagara County jail and had a police officer, canine demonstration too.
Although the entire day was impactful and enlightening, the most moving part for me was with Judge Watson discussing and watching his drug court. We spoke to a participant who is close to completing the program. His story was moving; he struggles with opioid addiction and found himself addicted to heroin. He speaks about his addiction now, hoping to help others.
I hope I can take what I learned for this session and be more empathetic, more thoughtful about what's happening in the lives of the people around me.
Greg
This month, our class was able to focus on a handful of much lighter topics: Arts, culture, tourism, and history. While there are some challenges in Buffalo that remain, these topics and industries are thriving in Buffalo, including a more recent surge as our revitalization has inched further into the national conversation.
My morning started at the brand-new Explore & More Children's Museum at Canalside, including a talk from Patrick Kaler, President/CEO of Visit Buffalo Niagara, our destination marketing organization. At InBN, we work closely with our partners at Visit Buffalo Niagara to market the region positively, and that was covered in Kaler's optimistic and engaging talk.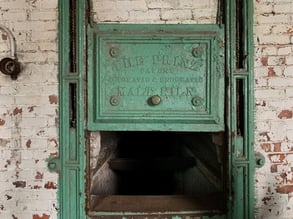 Next, I hopped on the second floor of a double-decker bus that toured us around Buffalo's waterfront and Central Business District. It was great to learn of Buffalo's rich history, including its inflection points with the Erie Canal's creation and Pan-American Exposition. We also did a walking tour of Silo City, checking out the sights of "our relatively young country's industrial ruins" and how they're being re-purposed as art installations and performance spaces.
Our day also took me to the Torn Space Theater, the Buffalo Zoo, and Albright Knox Art Gallery.
We also heard from the Olmsted Park Conservancy on Buffalo's world-renowned parks system designed by the famous Frederick Law Olmsted (who also designed Central Park in New York City.
The day overall made me grateful to live in and professionally represent the Buffalo Niagara region. You often take what's in your own backyard for granted and forget how green the grass is on your side of the fence. This day was a great opportunity to re-energize and learn more deeply about the region I talk and/or write about all day long.