The Buffalo Niagara Medical Campus is once again celebrating Bike To Work Day on May 21. And there's no better place to celebrate than right here in Buffalo!
Biking is big in Buffalo Niagara – both as transportation and for recreation.
The City of Buffalo alone has nearly 150 miles of bike lanes and the broader region as a whole is extremely bike friendly, with casual waterfront rides, more mountainous trails, and everything in between. One of the most comprehensive networks is the popular Niagara River Greenway Trail – a blend of urban, waterfront, naturalized, and suburban paved pathways.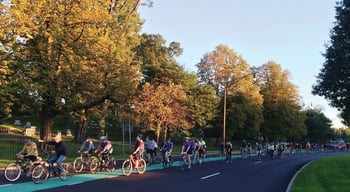 There are also many community-based organizations and private investment and support into making Buffalo even more bike friendly, improving bike infrastructure and investing in further growth.
"Being a 10-minute bike ride from work has improved my happiness significantly," said Sean DeClerq, who relocated to Buffalo from Boulder, Colorado. You can read his relocation story here.
---
Just SOME support organizations, bicycle clubs, and events:
Through advocacy efforts, infrastructure improvements, and community programs, GObike Buffalo works to create healthy environmentally sustainable, and community friendly options in the greater Buffalo region.
If you've been around Buffalo or Niagara Falls, you're sure to have seen these red bikes all around! Reddy Bikes is our region's bikeshare program, powered by an app and immensely popular.
Slow Roll Buffalo is a group bicycle ride that meets every Monday night from May through October. Each week, Slow Roll Buffalo meets at a different venue and riders take a unique route throughout the region.
A bicycle tour of historic locations, new bicycle infrastructure, and an incredible, scenic ride over the Buffalo Skyway.
The Ride for Roswell is an annual celebration of community support for Roswell Park Comprehensive Cancer Center. Each year, more than 8,000 riders and 2,000 volunteers come together to raise funds for cutting-edge research studies and patient-care programs at Roswell Park. With a dozen routes ranging in distance from three to 102 miles, anyone can participate. It's one of the nation's largest cycling events.
WNY Mountain Bicycling Association
---
Oh…and when the temperatures change, Buffalo's ice biking experience was ranked the 18th best experience around the world to get you moving by National Geographic.