Kate, Stacey, and Andy became friends when they attended Lancaster High School in Western New York. But after graduating high school, they each went off to different colleges. And from there, they again had different plans in mind.
This is the story of their paths, their journeys away from Buffalo, and (spoiler alert) how they made their way back.
---
Stacey and Andy
After Lancaster High School, Stacey went to Brockport for undergrad and Andy attended the Rochester Institute of Technology for engineering. The two dated in college for a few years, but soon their paths would diverge.
Andy headed to Los Angeles area for an engineering job with Boeing and Stacey was at Canisius College in Buffalo for graduate studies. After receiving that degree, Stacey applied across the country, eventually landing in Atlanta working for Georgia Tech as an academic advisor. Neither Stacey or Andy expected their moves to be long-lasting, though.
"It was always a short-term goal," Stacey said. "I always thought I'd move back to Buffalo."
"I wanted to try something unique and move away," Andy said. "But when I did, I was pretty sure it wouldn't be a permanent solution. I saw it as a career move."
Though they both thought they'd be back, they didn't know how – at the time 2,000 miles away from each other and similarly distant from their hometown.
Until, that is, they both received a wedding invitation for a mutual friend back home in Buffalo. At the wedding, Stacey and Andy reconnected. And when they back to their respective new homes and cities, the connection continued. Andy visited Stacey in Atlanta. Stacey visited Andy in California. And for awhile, they rekindled their relationship on a long-distance basis.
But again, they both knew it wasn't a permanent solution.
The options? They could join one another in their cities', or both mutually decide to move to a new location. Or, a familiar one.
"He was the one that really pushed us to move back to Buffalo," said Stacey about her now husband Andy.
"I love the weather. I love the cold and I missed the seasons. Any visits home from California were never in the fall and I missed that," Andy said. "The food is probably the thing we missed the most, as well."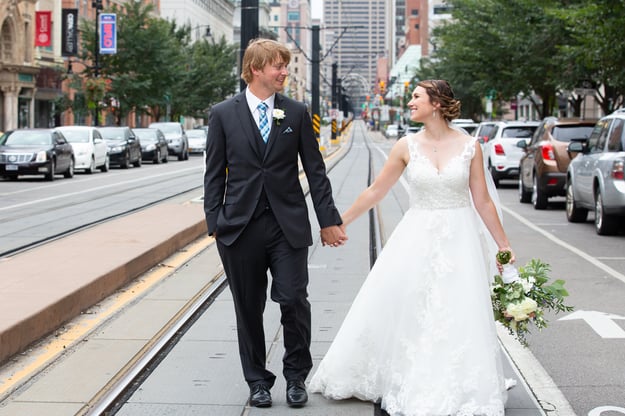 After 6 months of long-distance dating, the couple decided to start looking for jobs back in Buffalo. Stacey flew home for a small conference and networked as much as she could on the stint. Andy started to look as well.
The couple landed jobs – Stacey at the University at Buffalo's Department of Architecture and Andy at Moog – and moved back in 2017. They got an apartment on Elmwood Avenue for the first two years back.
"I felt like I knew nothing about Buffalo," said Andy. "I grew up in the suburbs and went to college in Rochester. I hardly knew about these cool shopping and entertainment districts that are walkable and have a ton of stuff to do."
Now, the couple has transitioned into a suburb Snyder, down the street and reunited with their highs school friend Kate.