"Now therefore be it resolved that I, Byron W. Brown, Mayor of the City of Buffalo, do hereby proclaim May 8-13, 2017 as Economic Development Week."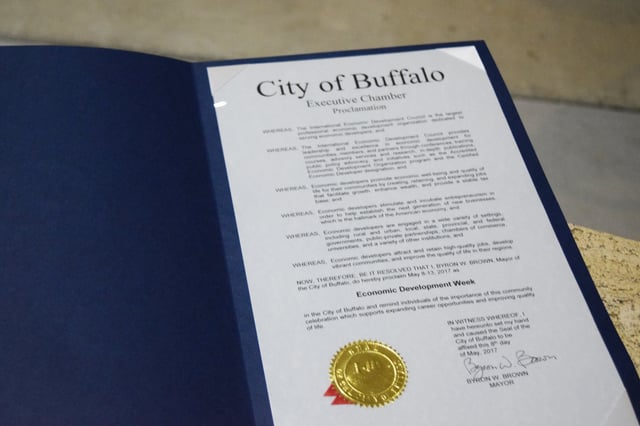 On Monday, May 8 Buffalo Mayor Byron Brown announced a proclamation for Economic Development Week. Mayor Brown paired the announcement with the debut of two marketing videos for the City, made in conjunction with yours truly, Invest Buffalo Niagara. Watch them here:
Small Businesses Drive Economic Development in Buffalo, NY from City of Buffalo on Vimeo.
Starting a Small Business in Buffalo from City of Buffalo on Vimeo.
Busy, busy Buffalo
The City of Buffalo has seen a well-documented rebirth over the last handful of years. The tide has turned and national attention has been given. In the Mayor's Office of Strategic Planning, that is well known. Director of development Becky Gandour, economic development coordinator Tuona Batchelor, and Royce Woods, commercial real estate analyst don't always get the spotlight, but they're always deserving. Their fingerprints are on almost all of the major projects that come to mind when you image the new Buffalo.
"No day starts the same, and no day ends the same," said Woods.
Pulling on the same end of the rope
In the City of Buffalo, collaboration is key. There are many organizations working to pull the City up. They've been able to see success because they've figured out ways in which to work together and pull on the same side of the rope. Partnerships on the state, county, and city level are to thank for much of the revitalization everyone is so excited about.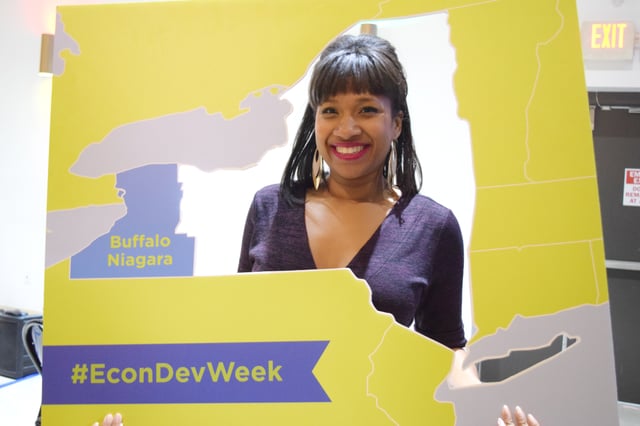 Buffalo is Bak
The City's revitalization could not have happened without successful economic development projects and the businesses behind them. BakUSA, a win of ours, has been a poster child for this ascension.
They create tablets for specialized industries and do so right on Michigan Avenue. The founders were originally inspired after the earthquake in Haiti in 2010, creating accessible technology and hiring women that were struck by tragedy or weren't given a fair shake in the economy. It was a non-profit company.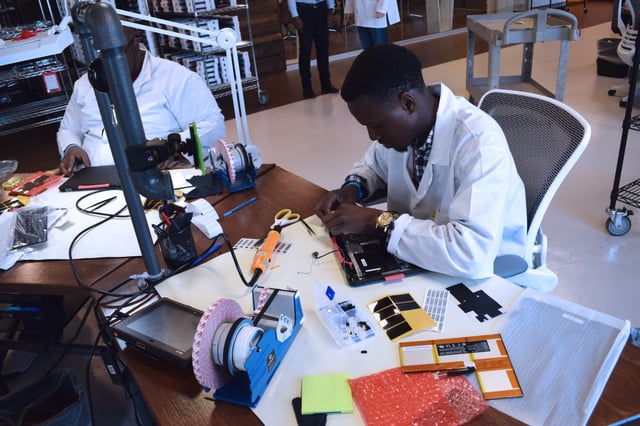 When they decided on a U.S. business-plan, they looked right at Buffalo. Why? The people. They cite the City of Good Neighbors mantra that we've all grown up representing. As a manufacturing company, they see opportunity in the skillset in this talented city. Buffalo has both the old-school manufacturing workforce and the new technology focused engineers. They hire people left out of the new economy, often retraining previous manufacturing employees for new tablet creation. They also focus on hiring immigrants, refugees, and diverse individuals. Upon opening in January 2016, they had about 15 employees. Today, they're up to 86 and growing. They were also able to get beginning logistics taken care of in the Start-Up NY program, hiring over 20 University at Buffalo graduates.
Photos by Sarah Larson and Casi Hall