Five economic development professionals walk into a bar.
The bar is called City Slickers in the heart of downtown Batavia. The waitress Luci walks over to the table, recognizing the group for their clout in the community. Before taking their order, she pitches her idea for a wedding boutique shop she aspires to open somewhere downtown. The group loves the idea and has the perfect place and concept for Luci. They agree to talk next week, and she follows with a round of water with a lemon on the side.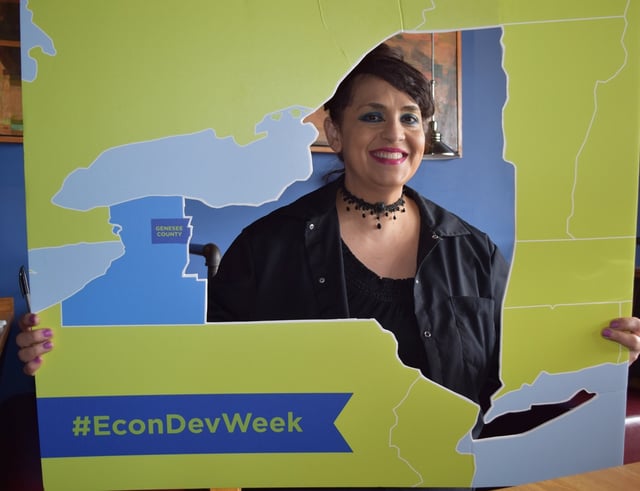 Luci with our Genesee County sign.
That's how economic development is done in Genesee County. It is a tight knit community where the economic development professionals are visible to the community. They are passionate about the redevelopment of their area. Economic development in Genesee County is done both with a large brush and a fine pointed one for the personal, human interactions that truly help to build a community and its optics.
At the lunch table with our Invest Buffalo Niagara staff visitors were:
Rachael Tabelski- Marketing and Communications Manager, Genesee County EDC
Julie Pacatte- Economic Development Coordinator, Batavia Development Corporation
Beth Kemp- Executive Director, Downtown Batavia Business Improvement District
Back in City Hall, we also met:
Chris Suozzi- Vice President Business and Workforce Development, Genesee County EDC
Matthew Gray- Entrepreneur and Restaurateur, most recently freshLABS.
Jay Gsell- County Manager, County of Genesee
Jason Molino- City Manager, City of Batavia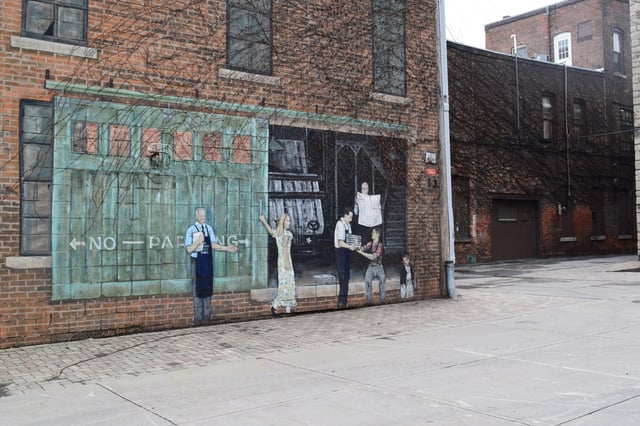 The gracious group gave us a tour of downtown Batavia, often referring to it as the "before" in a marathon project that will hopefully revitalize the city. The plans are in place and some projects, like Matthew Gray's freshLAB, are in progress. Gray's freshLAB will be a mixed-use building, featuring a restaurant incubator, brewery, and four residential units. The project is in the heart of the city, and is the building block for future successes.
The area also has a Brownfield Opportunity Area, with plans in the works to revive using tax credits. Savarino Companies is involved in one of the projects, involving an estimated $18 million in capital investment and tax incentives.
---
What we learned in Genesee County
Over the past few weeks, we at InBN have pounded the pavement in preparation and celebration of Economic Development Week, May 8-13. We've reached out to each of our 8 counties, visiting our IDA partners, and touring economic development projects of impact in the area. This is what we learned in Genesee County:
The county has range
We started our trip to Genesee County with a trip to Post Farms, the fifth-generation dairy farm. We joined in on a large group of fourth grade students that are in a special innovation program, learning about robotics in class and now, on the farm, seeing them in action. The program is a workforce development campaign headed by a Genesee County Economic Development Center Consultant John Jakubowski.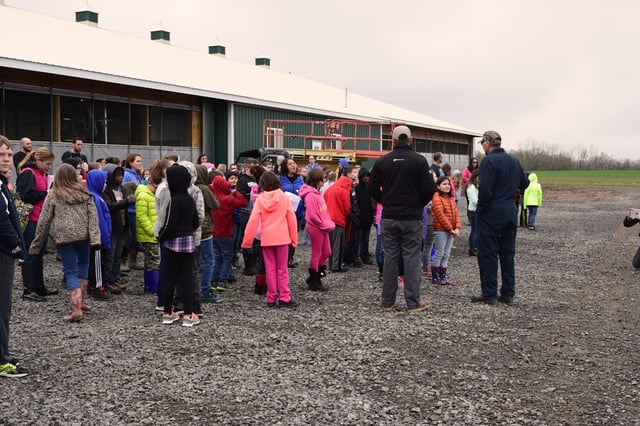 Post Farms for a peek into the robotic milking process.
Once we got enough of the fresh, rural air, we moved on to downtown Batavia to meet a group of government and private sector economic development professionals. We received a tour of the city streets that see 40,000 cars per day despite having only 16,000 residents because of its strategic location between Buffalo and Rochester. After we took in enough of the city streets (and had a taste of the grilled chicken sandwich served quickly by Luci), we headed to O-AT-KA Milk Products Coop. Inc., a milk processing plant that creates butter and powdered dairy products. O-AT-KA, the largest employer in the county, has over 400 employees, and is looking for 18 more currently.
"We need people," said Carl Teravainen, Manager of Quality Assurance at O-AT-KA. "We are in a constant state of hiring."
To go from the rural, urban, and industrial corners of the county was telling of just how versatile it is.
Collaboration is key
The night before our trip, the group of individuals we met in downtown Batavia were together until nearly 8 p.m. Early the next morning they were together again for a breakfast in support of Beth Kemp, Executive Director of the Downtown Batavia Business Improvement District. The group of individuals working to develop Genesee County are dedicated and love what they do. And most importantly, they do it together, meeting multiple times a week to discuss ongoing and future projects.
Photos by Sarah Larson