When we visited Merchants Insurance to interview Robert Zak, president & CEO of the Buffalo-based insurance provider, we found a table in large, recently renovated room. It was open and collaborative, with artifacts from the company's history on display. Lining the outside of the room's floor was a newly installed walking track for employees to get their steps in. The company understands that health and wellness is important to employees and encourages the self-care. It's just one of the many ways Merchants Insurance takes care of its employees.
"When you have a great group of people, you do what you can to keep them here," Zak said.
Merchants Insurance provides high-quality and affordable insurance for home owners, automobile owners, and many small businesses. The company employs over 220 people in its Buffalo headquarters.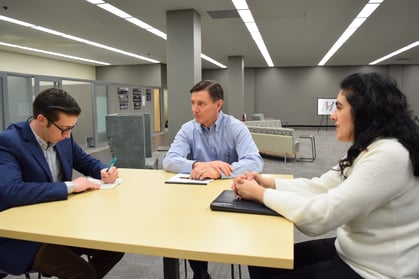 Zak cites that workforce for much of Merchants Insurance's success in Buffalo, too.
The region already has approximately 8,000 existing employees in the insurance sector. Merchants Insurance contributes to that and continues to pull from Buffalo Niagara's 21 colleges and universities graduating 28,000 students annually.
"The quality of the people in Western New York has been a key to Merchants Insurance thriving for over 100 years," Zak said. "They are well educated, have a strong work ethic and, more importantly, care about each other and their customers. That's what the 'City of Good Neighbors' is all about."
Zak also credited Buffalo Niagara's affordability. The median hourly wage for insurance related professions and cost of living is lower than in other competitive markets, helping the company's bottom line and allowing an employee's dollar to go much further. In 2016, Buffalo's cost of living was 4.9% lower than the national average.
Merchants Insurance's success is undeniable. On March 5, the company reached its 100th year anniversary.
To celebrate, Merchants donated $100 on behalf of each employee to the charity of their choice. Merchants also contributed an extra $100 to each employees' 401k and held a party to celebrate.
When asked about the significance of the milestone, Zak already had his eyes on what is to come.
"That was last week," Zak said. "It's on to the next 100 years."
The next 100 years in Buffalo, that is.