Finding talent in 2022 is about engaging underrepresented talent pools who don't just help you meet your hiring goals but bring diverse perspectives to foster innovation at your company. One way to do that -- and a significantly under-utilized way -- is through a willingness to hire and onboard graduating international students from our local colleges and universities.
Nearly 1 in 5 students at the University at Buffalo (UB) come from outside of the U.S. To put that number into perspective, consider the employer base of some of Western New York's largest corporations. The 6,000 international students at UB alone would represent 75% of M&T Bank's employee base in WNY. At 6,000 employees, Moog would be almost 50% larger than it is now. That would be four Buffalo Tesla factories. This is a talent pipeline large enough for every company in our region to consider, especially during the persistent talent crunch that is impacting all metros across the country.
Below is a general guide to just some of the program options that put your company on a path to on-boarding international interns and full-time hires. Each program is described in more depth below the table.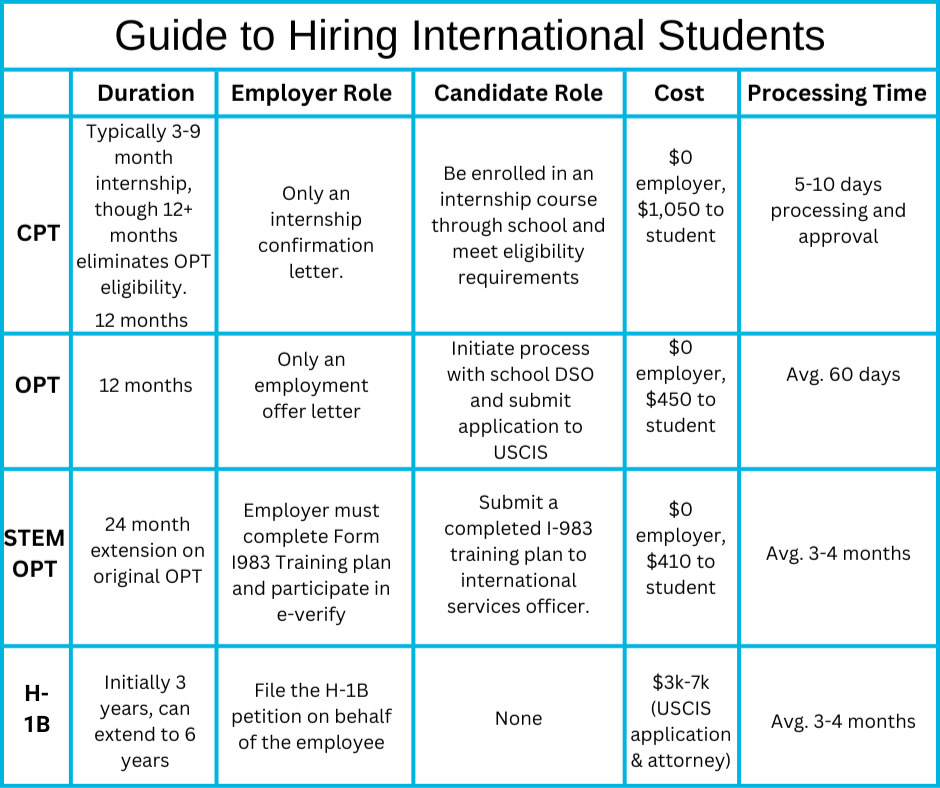 Curricular Practical Training (CPT) - Allows students to participate in internships within their area of study after their first full year of study. While there is no cost to the employer, candidates may negotiate for signing bonuses or other incentives to off-set their own personal cost.
Post-completion Optional Practical Training (OPT) - Allows recent graduates to gain work experience in the U.S. While there is no cost to the employer, candidates may negotiate for signing bonuses or other incentives to off-set their own personal cost.
STEM OPT - Allows recent graduates with science, technology, engineering, and math an additional 24-months of work experience (for a total of 36 months).
H-1B status - H-1B are the most long-term program. For-profit companies can sponsor up to 65,000 candidates who have completed an undergraduate degree, and an additional 20,000 for those who have completed a graduate program. The estimated cost above ($3,000-$7,000) is inclusive of the USCIS application fee and the estimated costs of an immigration attorney.
---
"Arguably, the most diversity comes in the form of the students' academic backgrounds and training, which span a broad range of STEM and non-STEM backgrounds. We also have students that are coming back to academics after being in industry working as professionals in their fields. The heterogeneity brings out unique perspectives in the classroom," noted Dr. Rachael Hageman Blair, Associate Director for Education at UB.
During the talent crunch companies are facing today, they need to be more creative and open-minded to new solutions than ever before. One of Buffalo's strong-suits is our attractiveness to international students coming to study in our region, especially at UB. As our local innovative companies continue to grow, and rapidly so, the international student population should certainly be more strongly considered and utilized in hiring needs.