Words by Abby Hughes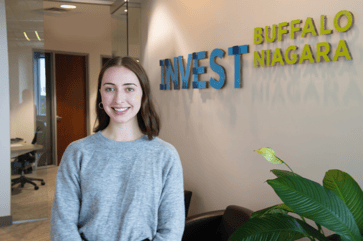 I first heard about an internship opportunity at Invest Buffalo Niagara (InBN) through the Western New York Prosperity Fellowship, which is a program for entrepreneurial and business-minded college and graduate students who want to make a difference in their community after graduation. As a dual major in Political Science and Urban Studies with a minor in Women and Gender Studies, I was hesitant to apply for a position as a Marketing and Research Intern at InBN. I had no experience in marketing or research beyond knowing my way around social media. My knowledge of the economic development and revitalization occurring in the region was limited. I would soon be entering my Senior year of college with little understanding of what I would want to do after graduation and if my uncertain future would eventually lead me somewhere outside of Buffalo or not.
As I conclude my internship at InBN, the lessons I have learned have made my future a bit more clear, and my experiences have given me a different perspective on the Buffalo Niagara community and the hard work that is being done behind the scenes to contribute to our region's revitalization.
Here are 5 of the many things I've learned as an intern at Invest Buffalo Niagara:
Mission matters
InBN states on their website, "Our mission is to attract new employers to the Buffalo Niagara region through outreach to growing companies around the world." In observing meetings regarding talent attraction and business development, and in working with the marketing and research departments, I quickly learned that this mission is at the heart of everything that Invest Buffalo Niagara does.
Teamwork does indeed make the dreamwork
What immediately stood out to me about InBN is the unique team of individuals who put the organization's mission into action. The team at InBN believes so strongly in our region that their drive and hard work seems to come naturally. Their passion creates a supportive environment of collaboration, which has in turn translated to millions of dollars invested in the region and hundreds of jobs created and retained each year.
The power in partnership
My internship taught me the value of fostering meaningful relationships and partnerships within the community. The strong partnerships that InBN continues to create prove not only the resourcefulness necessary to sustain success as a nonprofit, but they also exemplify how much the mission of InBN resonates with the Buffalo Niagara community. From the opportunities I have had to sit in on meetings with IDA partners, attend events for community partners such as M&T, and meet Board members, there is no question that the growing impact that InBN has on Buffalo Niagara is due in part to the relationships the organization has built in the community.
Commitment to clients and community
Invest Buffalo Niagara's commitment to the community is perhaps most evident in their dedication to their clients who are looking to expand or relocate to the region. While InBN's Business Development team works with the company throughout the process of expanding and relocating to the region, this process also involves the Marketing and Research departments who, from the very beginning stages, create and provide resources and research to companies regarding incentives, industries, workforce, and more. This process not only involves leveraging relationships with existing community partners, but it also requires an in depth understanding of the client's needs as well as an attentiveness to confidentiality.
Talent takes time
Witnessing the creation of Invest Buffalo Niagara's new talent attraction initiative, Be in Buffalo, was one of the most rewarding aspects of my internship at InBN. Doing something never done before in Buffalo not only requires a committed team and strong community partnerships, but also an incredible amount of time, patience, and a willingness to take risks.
There is no doubt that Invest Buffalo Niagara will continue to play a critical role in our region's growth and advancement into the future. The perspective that I have gained from my internship at Invest Buffalo Niagara has made me realize that I not only want to be in Buffalo for years to come, but I also want to contribute to its success.