Do you have a dynamite business idea? Do you want to be part of the new Buffalo momentum? Check out these incredible opportunities that reflect the changing tide and join the growing community of entrepreneurs who are living their dreams, contributing to the region's renaissance and growing jobs in Buffalo Niagara.
Applications are open for not one but TWO amazing investment opportunities:
During the nationwide "Rise of the Rest" tour, Steve Case -- cofounder of AOL and CEO of Revolution -- will visit Buffalo to discuss the importance of startups to the city and invest $100,000 in a local startup during a pitch competition. Case will also host a happy hour celebration for supporters of the startup community.
If you are interested in pitching your startup to win the $100,000 investment from legendary entrepreneur Steve Case on September 30th, start your application today.

Get busy! The application deadline is Sunday 9/13 at 11.59pm EST.
For further details and to start your application visit: https://www.f6s.com/riseofrest/apply
To learn more here is a recent Buffalo News piece on Rise of the Rest, and here is a blogpost from Steve Case announcing the upcoming tour.
University at Buffalo will host the Seventh Annual Bright Buffalo Niagara Entrepreneur Expo on October 28, providing business owners the opportunity to present live pitches and make connections with venture capitalists at the entrepreneurial trade show. This dynamic forum, designed to increase exposure for startup businesses and develop valuable relationships, will feature Daymond John, founder and CEO of the FUBU ("For Us, By Us") clothing line, and star of ABC's business reality show "Shark Tank."
If you are interested in pitching your startup to venture capitalists at Bright Buffalo Niagara, start your application today.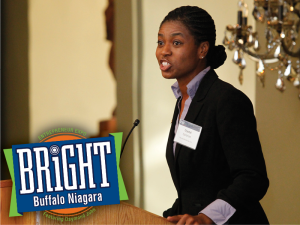 You can apply here: http://www.brightbuffaloniagara.com/
The application deadline is Friday 8/14 at 11.59pm EST.
But these events aren't for startups only. You can support the growing startup community by registering to attend the Rise of the Rest pitch competition and cheer eight startup finalists as they compete for the $100,000 in prize money. Come see why and how entrepreneurs and the startup community are vital to the success and future of our region.
And if that's not enough excitement, we hope to see you October 29 when 43North Finalists pitch for $5 million in prizes! 43North is part of New York Governor Andrew Cuomo's Buffalo Billion initiative and operates through the support of the New York Power Authority.