The International Economic Development Council (IEDC) Future Forum was hosted in Buffalo this week. The conference brought over 200 economic developers from across the country to Buffalo.

We loved planning and hosting the conference and want to thank all our partners that helped make it possible.

The conference allowed me to learn things about economic development and even our own region. I reaffirmed some strengths I knew we had and expanded the belief of how well-prepared Buffalo Niagara is for the future. Below are a few things I learned:
---
Buffalo is back
My biggest takeaway is how far Buffalo has come in the last decade or two. Many of these economic developers were visiting Buffalo for the first time in 10 years, or first time at all. I only heard positive feedback about our vibrancy and revitalization.
The conference was hosted at HARBORCENTER, so Canalside access was easy and folks were very impressed. They also enjoyed each of their tours, including Niagara Power Vista, Buffalo Niagara Medical Campus (BNMC), Buffalo Manufacturing Works, and Northland Workforce Training Center.
We had attendees from as far as Nevada, Washington State, and even Alaska. They all fell in love with Buffalo.
Wellness tourism in our own backyard
The wellness tourism class left a particularly strong impact on me, likely because it isn't my day-to-day focus.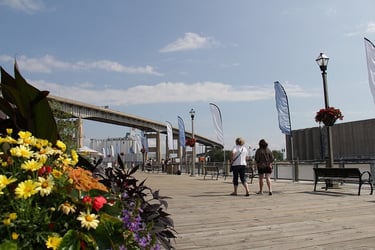 The presenter, Katherine Johnston, Global Wellness Institute, was walking around Canalside the day before her presentation, and was so impressed by what she saw, she included much of it, including photos, in her talk.
She stressed that wellness tourism doesn't have to be strenuous. It can be just for your locals, as shown by Canalside. The bike-sharing program, kayaks on the water, sand pit for children, community garden, and free yoga classes were specifically referenced as examples of bettering the life of people within your community through wellness tourism. Buffalo did a phenomenal job of renovating its waterfront and making it a destination for Buffalonians themselves. Much of this programming helps that mission.
Our manufacturing sector is advanced
On those tours, folks saw some of the manufacturing staples of our economy. Nortland Workforce Training Center (Apply!) is leaping into the future of advanced manufacturing, training people on the east side of Buffalo for well-paying jobs.

People I talked to were very impressed with how ahead of the game our region is with implementing new technologies. Buffalo Manufacturing Works was a particular highlight, with each person on the tour stopping to take photos of the robotic equipment.
A Buffalo Manufacturing Works success story, Bak USA, also left a great impression. JP and Ulla Bak gave the keynote lunch address at the Lexus Club in KeyBank Center. The animated presentation roused to crowd to whistles and hollers. The Bak's American technology manufacturing model inspired economic developers.
Collaboration is key
On the BNMC tour, and throughout the conference in general, attendees were impressed by how collaboratively our institutions work to the betterment of Buffalo. In talking to my peers, it's something that is truly unique to Buffalo, and often does not happen at all in other areas of the country. Our collaboration is truly one of our greatest strengths.
Friendly competition
Economic development is a competitive and team sport. But the competition is friendly. I had dozens of conversations with representatives from competitive regions. They were all about trading tips and improving. I met one gentleman from Nevada's largest dairy producing county. Rather than hide industry insights, I introduced him to Chris Suozzi of Genesee County and Jim Pierce of Wyoming County, representatives from our large dairy producing counties. Several folks did the same for me, too.
---
IEDC Future Forum left me encouraged for what's to come for both Buffalo and economic development. Thank you to those that attended and supported the event!