As a born-and-raised Buffalonian with deep ties to the Queen City, I've been so thrilled to observe the strides that my hometown has made in recent years. In my job as a recruiter, I always enjoy selling candidates on the beauty of Buffalo, a city that I consider to be the underappreciated gem of New York. Buffalo has begun to establish itself on a national level through the city's recent efforts to revamp and revitalize itself. Whether you're fresh out of college, raising a young family, or looking to retire, Buffalo is a place that people of all ages can call home.
Here are my top reasons to consider making the move to Buffalo:
Our affordability – Even as housing costs are rising across our region, Buffalo remains one of the most reasonably priced communities in the country. According to a recent study from Realtor.com, the Queen City was ranked as the best city to own a home for millennials. Led by the city's younger generations, Buffalo is burgeoning back to life. If you're looking to compare your current cost of living to that in Buffalo, use Be in Buffalo's Cost of Living Calculator to find out how affordable Buffalo really is.
Our food – Beef on weck sandwiches. Char-broiled hot dogs. Beer battered fish fries. Buffalo-style pizza. Chicken wings. Need I say more?! With a full array of delicious dining options, it's no wonder that Buffalo is world-renowned for its mouth-watering menus of food. You'd better bring your appetite to the Queen City!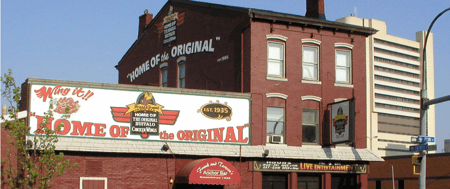 Our sports teams – With a reputation for rearing some of the most loyal sports fanatics on the planet, it's easy to see why Buffalo is nationally known as one big sports town. Our city loves to cheer on our four professional sports teams, including the Buffalo Bills (NFL) and Buffalo Sabres (NHL). Whether you're tailgating with the Bills Mafia outside New Era Field or grabbing a cold beer inside the KeyBank Center, you're bound to find some fun in celebrating Buffalo's sports scene.
Our outdoor adventures – In the Queen City, nature is all around us. Resting on the eastern end of one of the five Great Lakes, Buffalo is a perfect destination for summertime boaters, sailors, and kayakers. Beyond the shores of Lake Erie, navigate our hundreds of miles of parks and nature preserves. Discover breathtaking biking and hiking trails. When the days get shorter and the winter snowflakes start to fall, hit the slopes and shred some gnar at our nearby skiing and snowboarding resorts. In Buffalo, you'll experience nature like nowhere else in the United States.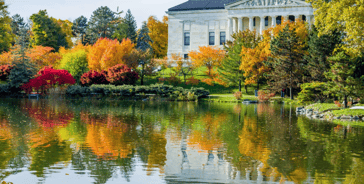 Our art – From celebrated American architecture to nationally-recognized musicals and plays, Buffalo's cultural landscape is like no other. Take a tour of Frank Lloyd Wright's structural masterpieces at the Martin House or Graycliff Estate. Explore thousands of paintings and other forms of art at the Albright Knox Art Gallery. Watch a Broadway musical at Shea's Performing Arts Center or stop by Kleinhans Music Hall to be symphonically soothed by the Buffalo Philharmonic Orchestra. Wander the streets in search of public art murals dispersed throughout the city. With an abundance of cultural opportunities in all shapes and sizes, Buffalo will be sure to satiate your artistic hunger.
Our family-friendly community – The greater western New York community has always been considered a sought-after destination for young families. As our "City of Good Neighbors" nickname implies, Buffalo is a rock-solid place for families to call home. Thanks to our top-tier public school systems and wide variety of engaging and educational activities at places like the Buffalo Museum of Science and the Explore and More Children's Museum, children can easily find themselves on a path to a successful future. Moreover, our city's array of great colleges and universities appeals to young adults who look to make Buffalo their permanent dwelling place.
Our commute time – Forget the two-hour traffic jams during your morning commute. In Buffalo, you'll reap the benefits of shorter travel times to and from the office. The average one-way commute in Buffalo takes approximately 20 minutes, which is 20% more efficient than the national mean. As drivers can make it from one end of Erie County to the other in under an hour, residents can travel from the suburbs to the city with ease.
Our walkability – The city in Buffalo and its surrounding suburbs have invested significant time and resources in promoting the walkability of their streets and sidewalks. Take a stroll down Elmwood Avenue on a nice, sunny day and you'll see shops and storefronts teeming with activity. Heading outside the confines of the city, suburban areas like East Aurora, Hamburg, Lewiston, and Williamsville feature charming villages saturated with unique character. You'll be sure to find a variety of historic, locally-owned stores that offer one-of-a-kind shopping experiences to its patrons. And make sure you bring your furry, four-legged friends, too – the Buffalo area loves our pups!
Our beer – Buffalo has long been a city that reveres its beer. Since the prohibition movement in the early twentieth century, Buffalonians brainstormed creative ways to quench their thirst for alcohol by smuggling it across the U.S. border from Canada. In recent years, the city's beer scene has fully embraced the emergence of craft breweries and brewpubs. Western New York has come to savor these new locales and the finely crafted ales that accompany them. Beer lovers rejoice!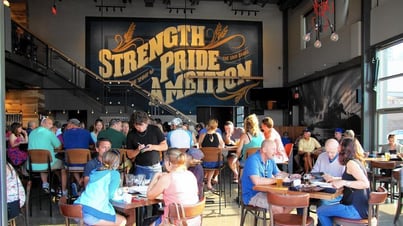 Our seasons – Where else in the world can you experience all four seasons in a given month? Although we may often joke about Buffalo's unpredictable weather patterns, Mother Nature surely keeps us Buffalonians on our toes. As Buffalo often endures the wrath of lake effect precipitation due to our proximity to Lake Erie, it may seem like our winters last far too long (except to our skiers and snowboarders!). But the moderate summer months, paired up with our cool, crisp autumns and not-too-rainy springs, make it all worthwhile.
Our proximity to Canada – Upon peering out across Lake Erie, onlookers can set their sights on the Canadian shores that are just a hop, skip, and a jump away from western New York. Buffalo's famous Peace Bridge connects our American homeland to our country's neighbors to the north. Situated only an hour and a half away from the city of Toronto, a booming tourist destination which was recently named the fastest-growing city in North America, Buffalonians can enjoy a comfortable weekend getaway to the Ontario province.
Our waterfront – In what is now a vibrant area buzzing with activity, the expansion of Buffalo's waterfront has become emblematic of its growing community. Dubbed "Canalside" by our residents, the area has undergone a massive facelift over the past decade to become a sought-after destination for residents and tourists alike. From free summertime concerts and fitness classes to ice skating and winter outdoor activities, Canalside is meant to entertain people from all walks of life. Take a trip down to Canalside to see why Buffalo's waterfront has become the city's crown jewel.
Whether you're looking to be at the heart of the action in downtown Buffalo or prefer a plot of land to call your own, there's a home for everyone here in western New York!
Looking to make the move to Buffalo, but need help finding a job first? Connect with Kim Schultz on LinkedIn or shoot her an email at schultzk@acarasolutions.com.
---
About the Author – Kim Schultz is a Senior Talent Acquisition Specialist at Acara Solutions. Kim helps her clients with their staffing and recruiting needs while guiding them on their quest to find high-quality candidates. Leveraging her expertise in working to fill engineering, accounting, and operational leadership positions, she has worked with a wide variety of Buffalo-based companies in helping them to discover top-tier talent.