One of the most important ways Invest Buffalo Niagara can assist companies with an expansion project is through the identification of suitable commercial real estate. Utilizing our vast market knowledge and close relationships with the commercial real estate professionals across our region, Invest Buffalo Niagara conducts site searches and presents the findings to our prospects in a timely, detail-orientated manner. Similar to the consideration of incentive programs, there are some important factors to keep in mind before engaging in a commercial real estate search for a business expansion project.
1. Know what is required to make your project successful
As with many considerations, there are things we want and things we need. In a commercial real estate search it is important to start with the inputs that your business expansion needs to be successful. Focusing on needs allows economic developers and commercial real estate professionals to introduce as many possible options for consideration as the market allows. For example, if your project requires 20' clear height, but you would really like 30', it is better to start with the minimum requirement to see what is available. Beginning a site search with the 30' clear want may eliminate many good options from consideration.
2. Purchase, Lease, Build-to-Suit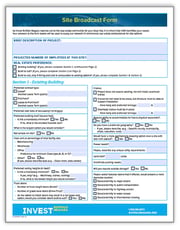 Before engaging with economic developers or commercial real estate professionals, it is important to have an idea of the type of commercial real estate contract in which you seek to enter that best fits your business expansion needs. Focusing on the priority needs first will allow Invest Buffalo Niagara and our partner organizations to present real estate options in a timely, detailed manner. Invest Buffalo Niagara can always go back to our commercial real estate partners with updated site search criteria after exhausting options with the preferred contract structure.
3. Be Ready to Act
Buffalo Niagara's commercial real estate market – especially in the industrial space – is very tight. Companies should be ready to conduct site visits shortly after creating a short-list of sites based on the results of a site broadcast. The longer the duration of time between the site broadcast and site visit the greater chance a building will have come off the market. Invest Buffalo Niagara has seen this phenomenon occur many times, especially related to buildings available for purchase, as they are in high demand (and short supply) in our region. Prospects should have real estate financing at the ready and move as quickly as possible when appropriate real estate options are identified.
As with every step in your business expansion or relocation project, Invest Buffalo Niagara is here to help – from research to ribbon cutting. We offer a wide range of services and provide expert advice, all free of charge. And we can act as a single point of contact to make sure your project receives all the support it requires, from site selection and incentives coordination, to workforce recruitment and training, and much more.