For the next few weeks leading up and through the holidays, our Invest Buffalo Niagara team will be giving you the scoop on the best of Buffalo Niagara. With Thanksgiving on the horizon, you might be expecting out-of-town company.
So, where does our InBN team like to take out-of-towners? What do we Buffalove to show off?
---
Casi Hall - Graphic Designer
I always brag about how awesome the frisbee golf course is at Chestnut Ridge Park. It's a beautiful hike through wooded ravines combined with a casual and fun game (Depending how serious you are about frisbee golfing). For me I take it "slow" and call it Frolf. It's all about having fun and enjoying the nature in Buffalo Niagara! Plus, you can't beat the distant view of the Buffalo skyline on a clear day.
Carolyn Powell - Business Development Manager
Eternal Flame at Chestnut Ridge. It is great hiking, dog friendly, and beautiful scenery. The flame is pretty cool to see, and it is a year around destination.
Greg Pokriki - Content and Digital Marketing Associate
If they're in season, a Buffalo Bisons game. I love baseball, but in general the games are such a casual and fun atmosphere. If you can get a matinee weekend game, that's the best. No matter the weather, people love Canalside area and seeing the faux ice bar-top at (716).
Tom Kucharski - President and CEO
Graycliff – allure of the 30s, Frank Lloyd Wright architecture and a Lake Erie shore-scape.
Alan Rosenhoch - Director of Business Development
Cave of the Winds—too many people go to the Falls and miss out on its best attraction.
Matthew Hubacher - Research Manager
Canalside: The transformation it has undergone in just a few years is astonishing and it highlights our waterfront like never before. Plus, it gives me the chance to drop a "back in my day" when Becky and I bring the kids to enjoy the new space!
Lorrie Abounader - Business Development Manager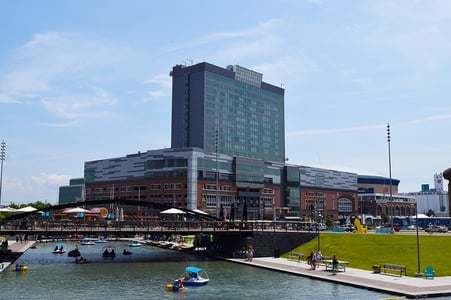 Niagara Falls! It's right in our backyard, after all.
Jenna Kavanaugh - COO
I like taking out-of-towners to the Albright-Knox Art Gallery. Recently we had a French foreign exchange teacher staying with our family. When we walked in to the Gallery tears came to her eyes – the very painting she had just studied with her class in France was hanging on the wall.
Olivia Hill - Business Development Specialist
Devil's Hole/Whirlpool State Park for a great hike. There are beautiful views of the Niagara Gorge and a stone stairway leads to the base of the gorge for amazing views of the Devil's Hole rapids.
Sarah Larson - Marketing Manager
By day, Canalside with lunch at 716 (kayak in summer, ice skate in winter). By night, shopping and dinner in Ellicottville.
Anthony Ciccarelli - Research Associate
My new favorite place to take out-of-towners would have to be Buffalo Riverworks in the summer. We can board a floating Tiki hut and sail Buffalo's beautiful inner harbor while enjoying some drinks and watching the sunset.
Alexandra Williams - Senior Administrator/Investor Relations Coordinator
The Darwin Martin House National Historic Landmark, was designed by Frank Lloyd Wright and built between 1903 and 1905 (my brother loved it when he came to visit).