Economic Development Week was created, among other reasons, to increase the awareness of projects improving the quality of life in regions across the world.
Erie County and the City of Buffalo have thrived in just that as the region has ascended further into the national conversation. Strategic placemaking and improved quality of life have led Buffalo's renaissance. The growing quality of life has hit each corner of the community, as well.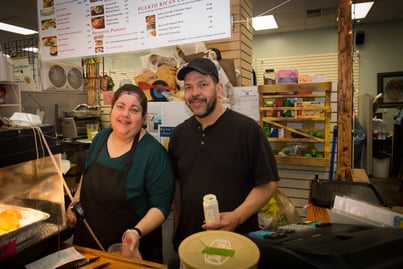 As immigrants and refugees fled to the West Side of Buffalo, hoping to continue the traditions of their old homes, there was a glaring need. West Side Bazaar answered that.
West Side Bazaar works to "bring the world to Buffalo," with different shopping boutiques and menus representing countries and cultures across the globe. The restaurant incubation space allows for lower overhead costs for a budding entrepreneur. West Side Bazaar provides some business counseling and vetting of business plans throughout the selection process. The hope is to eventually graduate those restaurateurs into their own brick and mortar location.
"The intention is to graduate. But we don't want people to graduate just to graduate. We want them to thrive," said Ben Bissell, executive director of Westminster Economic Development Initiative, who runs the West Side Bazaar.
West Side Bazaar has already had two restaurants graduate into their own locations.
Today, West Side Bazaar is a destination sought out by those all over Buffalo Niagara. The increased popularity and demand has West Side Bazaar on the cusp of expansion, though details are yet to be revealed.
"We want to keep this cozy feel, keep it authentic. And at the end of the day, make sure it's financially viable," Bissell said. West Side Bazaar is a great example of the strategic placemaking enhancing community in Buffalo.
On the other end of town, the Larkin neighborhood is yet another example of place making. The borough known colloquially as Larkinville has become a destination for its adaptive reuse projects in an old industrial town turned millennial hotspot. Warehouses are now luxury apartments and Class A office space. The outdoor landscaping also was completely revamped to encourage walkability and outdoor fun. There is a free mini-golf course, pickle ball courts, and plenty of open seating.
In celebration of Economic Development Week, our team hosted a tent at Food Truck Tuesday in Larkin Square, the event that helped propel Larkinville to its current notoriety. Food Truck Tuesday features 27 food trucks and live music, and draws thousands of visitors each week.
It's an example of the increased quality of life in Buffalo and Erie County. The revitalization of Buffalo Niagara focuses on connecting people and making the city enjoyable and accessible to all. It represents a city full of diversity and vibrancy and good neighbors. And we're not called the City of Good Neighbors for nothing!