While he was preparing his body to portray Iron Man, Robert Downey Jr. requested one. The Biggest Loser, NBC's hit weight loss television show, had about 10 of them, too.
The highly sought-after piece of workout equipment: Jacob's Ladder, manufactured in Niagara County.
Jacob's Ladder is a workout machine that simulates climbing a ladder. Divisions of the U.S. Armed Forces, professional athletic teams, and gyms across the globe have fallen in love with the workout. Though hesitant at first, Bob Palka bought the business in 2004.
"I hate to look away from an opportunity," Palka said.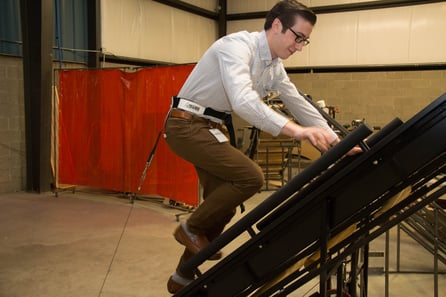 Today, Jacob's Ladder is in a 35,000 square foot building in Niagara County. The company has expanded past the namesake piece of equipment, as well. Now, Jacob's Ladder also produces two Stairway products, simulating walking up flights of stairs, and a Jacob's Ladder 2, designed for home use. Three of the four products rely on waist belt technology, using body weight to control the speed of the machine. The waist belt technology and freedom from electrical outlets, as the machines are self-powered, give Jacob's Ladder a competitive advantage in the market.
"When you do what no one has ever done, you run into problems no one has ever seen," said Palka, on the hiccups the company has overcome in its 14-year history. Jacob's Ladder has 18 employees and will likely hire more as demand increases after summer.
In the name of Economic Development Week, our team tried the Jacob's Ladder…at least for a few seconds.
Following that workout, we figured we earned a treat, so we stopped by Platter's Chocolate, a Niagara County staple.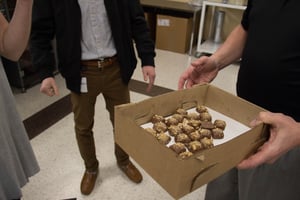 Platter's makes all its own candy that then becomes dipped, doused, drenched, and drizzled in chocolate. Platter's is most famous for its sponge candy, a Buffalo Niagara delicacy. The company produces sponge candy on a 120-foot manufacturing line. The sponge underneath the chocolate has its own dedicated room for settling and sawing into shape.
"When you give it to someone that doesn't know sponge candy, they don't know what to expect," said John DiGuiseppe, vice president of business development at Platter's Chocolates. "You have to prepare them. Then they love it."
The loyalty sponge candy creates has been great for Platter's. Online sales across the country have done incredibly well. The storefront at the Platter's 24,000 square foot facility in Niagara County also attracts many visitors. DiGuiseppe makes sure all the Platter's employees are trained as Niagara County ambassadors, ready to make recommendations to tourists on what to do in the area. To many tourists, Platter's is the front door to Niagara Falls.
Though we probably ate more chocolate at Platter's than what we earned at Jacob's Ladder, we learned about two pillars of Niagara County economic development and two very different types of manufacturers. I suppose you could say manufacturers are like a box of chocolates…you never know what you're going to get!