Cattaraugus County is a Buffalo Niagara destination, with winter skiing and summer festivals filling up the calendar. Ellicottville remains the staple, an inviting village with a walkable Main Street and retail that will empty your pockets.
The anchor of the area is a brewery baring its name—Ellicottville Brewing Company, known colloquially as EBC. EBC has grown into a regular at the taps of bars throughout the Buffalo Niagara region. The growing popularity has led to an expansion in Cattaraugus County, too.
The expansion is being placed in Little Valley, a few miles away from the original facility right in Ellicottville. The current space didn't allow much room for expansion, basically being built to capacity from the initial open.
"We were landlocked at our first facility," said Dan Minner, head brewer at EBC. Now, in Little Valley, EBC has 75,000 square feet, with an additional 9,000 on the way with the addition of a restaurant. The site is on seven acres of land. An advantage of the site was the large and reliable water aquifers, shipping docks, and affordable municipal power.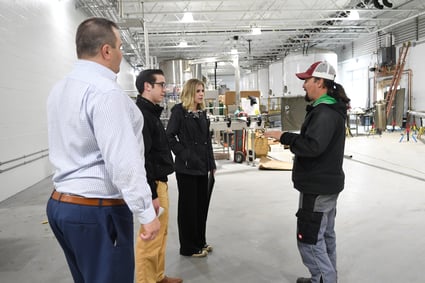 The new building allows Minner and EBC the opportunity to do things not possible at their first facility. The packaging room is more advanced and automated than ever before, cutting down on breakage and waste. A standard packaging run takes about two minutes in the new facility, compared to nearly 45 minutes previously. They've also included a sophisticated $1 million water storage project.
The large space that they have also allows for a great guest experience. EBC plans on including a museum of beer, displaying the history and evolution of the beloved beverage. The property behind the shiny new brewery may also provide opportunities for the business to host outdoor events, unlike the landlocked original on Main Street.
The new EBC site will employ about 35 people.
Head Brewer Dan Minner also gave his stamp of approval on the second stop of our visit, local bakery Cupcaked. The friendly staff, superb baked goods, and decadently frosted cupcakes were the perfect ending to a great day in Cattaraugus County. We'll be sure to get back to Cattaraugus for a brew, and another cupcake too.