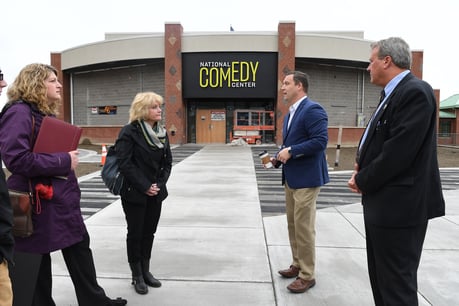 Costello: All I'm trying to find out is what's the guy's name on first base?
Abbott
: Oh, no, no. What is on second base.
Costello: I'm not asking you who's on second.
Abbott: Who's on first!
That's right, Abbott. Who is on first. And on 2nd Street in Jamestown, New York is the brand new National Comedy Center.
The National Comedy Center has 37,000 square feet of exhibit space in two adaptively reused buildings, including a historic train station. The Comedy Center is a highly customized experience, gearing many exhibits to a guest's comedy palate, self-selected at the very beginning of the museum. Guests can choose their favorite stand up comedians, late-night hosts, sitcoms, and more as they begin their journey. The Comedy Center celebrates comedy in all its forms, from Shakespeare to Seinfeld, and everyone in between.
The Comedy Center features many different exhibits, including a hologram theatre, George Carlin's career collection, cartooning tutorials, radio lineage, a karaoke stage for guests to try stand up comedy, and more.
The National Comedy Center, a $50 million project over nine years in the making, is the anchor of a new 2nd Street corridor, including more open public space, new roadwork, and fresh landscaping. The project hopes to bring more visitors and life to Jamestown, the home of Lucille Ball.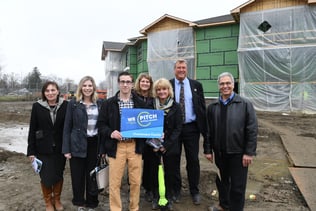 In response to the anticipated increase in tourism to the area, Chautauqua County is adding hotel space. The Harbor Hotel is set to open in the summer of 2018. The new hotel will have 135 rooms, including 15 suites. Around 60 of the rooms will have balconies with a view of Chautauqua Lake and the beautiful floating pier. There will also be a ballroom to fit 450 people, accommodating weddings and large conferences.
Tourism in Chautauqua County is already a booming industry and is only ascending thanks to the National Comedy Center.
"We want this to be the Cooperstown of comedy," said Rich Ryan, director of development.
The Comedy Center also features a room to celebrate the best props in comedy history, including a baseball bat, like the one used in Abbott and Costello's famous "Who's On First" sketch.
Coincidentally, just down the road in Chautauqua County, we visited a baseball bat manufacturer, Superior Bat Company. Though no longer Major League Baseball approved, Superior was previously lauded by big league stars like Curtis Granderson and used in the 2011 World Series to hit a Game 7 Allen Craig home run.

Chautauqua County has a rich history of furniture manufacturing. Superior started that way, coming out of Superior Wood Turnings, which makes intricate, wooden table and chair legs. One day, the transition and diversification to another rounded, wooden object became obvious.
"I wish I would've saved my first bat," said Grace Wheeler, Superior Bat Company's sole employee. "I remember it wasn't good, but I wish I would've saved it."
Superior Bat Company stores its maple wood in a dehumidified room to keep the quality of the material. Wheeler then programs a machine, does a bit of sanding, and out comes a pristine symbol of America's favorite pastime. Superior designed all its own equipment and programmed the machines through a lot of testing. After the wood is shaped, the bat is engraved on its barrel, and stained one of 35 different colors.
The company's success is a testament to both the tradition and ingenuity of Chautauqua County. Whether its tourism, hospitality, manufacturing, or anything in between, Chautauqua County economic development is a home run.