The additive manufacturing industry is growing. 3D printing is no longer just a basement hobby or even solely for rapid prototyping. Meaningful innovations are being made thanks to additive manufacturing. It is the future. Buffalo Niagara understands that and is ready for it.
Below are just a few resources and local success stories in the additive manufacturing industry that are meaningful as the sector continues to grow.
Post Process Technologies
Post Process is a successful and rapidly growing company born and raised in Buffalo. Post Process focuses on the oft-overlooked the third step of the additive manufacturing process—post-printing. The company has proprietary software and patent pending hardware that help ease the finishing of 3D printed materials and goods, solving one of the most significant bottlenecks in the additive manufacturing sector.
They have over 40 employees locally, with a handful of others working remotely around the world. The company estimates 60-70% of its workforce is technical engineering talent.
"There's a cost advantage running a startup while you're not paying huge salaries," said Jeff Mize, Post Process CEO. "University at Buffalo has been great filling our engineering pipeline. We've had multiple interns turn into great hires."
Engineering talent
The success of any company hinges on its people. Luckily, Buffalo Niagara has a large pool of skilled workers. Western New York's 21 colleges and universities graduate 28,000 students annually.
University at Buffalo has a specific area of strength in its engineering training. Companies in Buffalo Niagara can also draw talent from neighboring Rochester Institute of Technology and University of Rochester.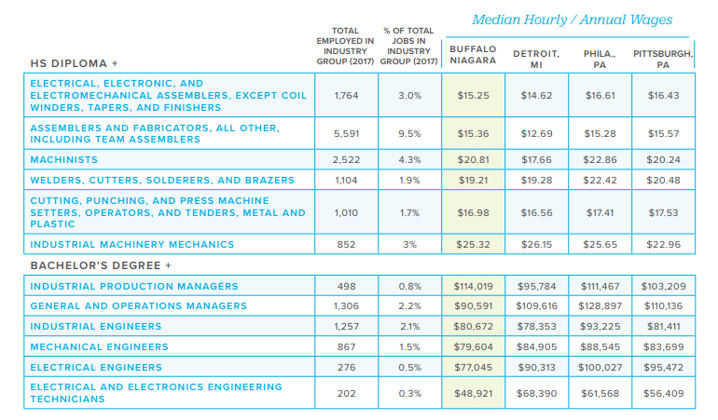 Buffalo Manufacturing Works
Powered by EWI, Buffalo Manufacturing Works (BMW) allows companies to collaborate and learn on new technology before deciding internally to make the spend for their own business. BMW also offers services by its expert staff in process improvements and automation.
BMW has invested heavily in additive manufacturing—one of its key industry subsectors. The organization houses equipment and expertise for companies in Western New York to leverage. They also offer a certificate program for interested high school students.
Buffalo Niagara also boats many support companies that can be leveraged by additive manufacturers.
Buffalo Niagara has a 2.15 concentration of machine shops (1.0 national average). That's over double the number of machine shops available in Western New York than the rest of the country. Buffalo Niagara also has a 2.69 concentration of electrical equipment manufacturers (1.0 national average). Additive manufacturers based in the region can easily find the necessary tools and partners for success.