While travel over the Can-Am border remains restricted, the Toronto Blue Jays have decided to call downtown Buffalo their home for the time being. This new American headquarters for the Blue Jays allows for easier travel between cities and a home base for its players.
The idea of a Canadian "company" establishing an American headquarters is not unfamiliar territory for us here at Invest Buffalo Niagara. We help Canadian companies expand into the U.S. for many of the same reasons the Blue Jays decided to, and often pitch that Buffalo is the logical front door to the American market for a Can-Am expansion.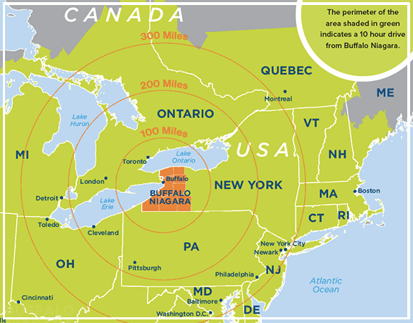 Buffalo Niagara's proximity to the U.S. Canadian border is a major advantage to Canadian companies looking to expand to the U.S. The ability to travel between facilities within a short drive allows for company owners, managers, and key staff to oversee both operations.
It also allows Canadian companies to benefit from the deep bench of cross-border experts here in our region.
Along with their help, we can help you navigate the various aspects of cross border expansion, identify real estate, apply for incentives programs, and more. And, we can do this virtually too. View our recent webinar - Virtual Expansion Planning with the Experts.