Buffalo Niagara has a rich history of manufacturing. Today, advanced manufacturing is our third largest employment sector. 66,000 people currently work in advanced manufacturing in Western New York. It's a staple of our economy and growing.
In recent weeks, our team has been touring advanced manufacturing companies throughout Western New York to get a better feel for our regional assets straight from the people benefiting from and leveraging them.
There were a few consistent themes we heard, listed below.
The City of Good Neighbors
Buffalo Niagara's people are the difference. They are talented, loyal, and hardworking. They are also affordable for hiring companies.
Ben Harp, Polymer Conversions, COO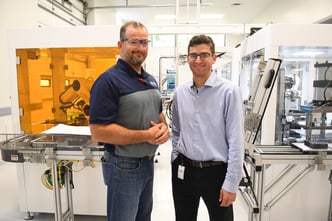 Polymer Conversions manufactures critical to life medical devices in Buffalo Niagara. Read our blog on their experience with the Western New York Workforce.
"One of Buffalo's best resources is the people."
"Our people have the soft skills. They're very articulate and very well-educated. We're just raising nice people—they can talk, they're hardworking."
Steve Davis, Tapecon, President
"We've got people that are willing to embrace our culture and one of those core values is all about flexibility and adaptability. We've got people embracing the challenge to learn something new and we're able to scale up."
Jeff Mize, Post Process, CEO
"There's a cost advantage running a startup while you're not paying huge salaries."
More on the way, too
The 66,000 current employees in advanced manufacturing are powering our current companies to new heights. But there are reinforcements in tow, and that's what companies we talked to were excited about.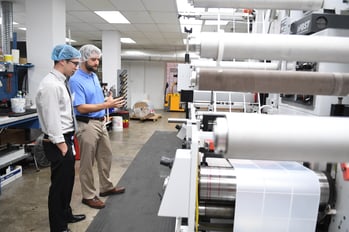 Buffalo Niagara boasts 21 colleges and universities, including University at Buffalo, a top school for engineering talent.
Jeff Mize, Post Process, CEO
"University at Buffalo has been great filling our engineering pipeline. We've had multiple interns turn into great hires."
Steve Davis, Tapecon, President
"Our university system puts us at a strategic advantage over our competitors."
It takes a village
Buffalo Niagara is a tight-knit community, and the microcosm of the manufacturing industry is no different. The history of the community leaves a solid foundation from which companies can grow. There are plentiful new resources for companies to leverage, including Buffalo Manufacturing Works, Insyte Consulting, and the new Northland Workforce Training Center, which are all in the process of co-locating to create an advanced manufacturing campus.
The startup scene for growing companies like Post Process, who is in the rapidly changing additive manufacturing space, is also sound. Entrepreneur.com called Buffalo the second most booming entrepreneurial ecosystem in the country.
Ben Harp, Polymer Conversions, COO
"[People] grew up with their parents on the line manufacturing. It's in the fabric of a family."
Jeff Mize, Post Process, CEO
"It's really cool to be a part of the growing startup scene here."
Steve Davis, Tapecon, President
"There's a good support network around here."