In which geographies is your business, or even your employees, equipment, and building, at risk of catastrophic natural disasters?

Not in Buffalo Niagara.

Buffalo Niagara is one of the safest areas from natural disasters. The risk for a business is significantly lower and should be considered when weighing location decisions for relocations or expansions.

Trulia and CityLab named Buffalo the fourth safest city from natural disasters in 2017. The story also points out that Western New York is affordable, on top of being safe (Check out our Cost of Living Calculator to crunch the numbers yourself).

This map below from The New York Times also shows how safe from natural disasters the Buffalo Niagara region is.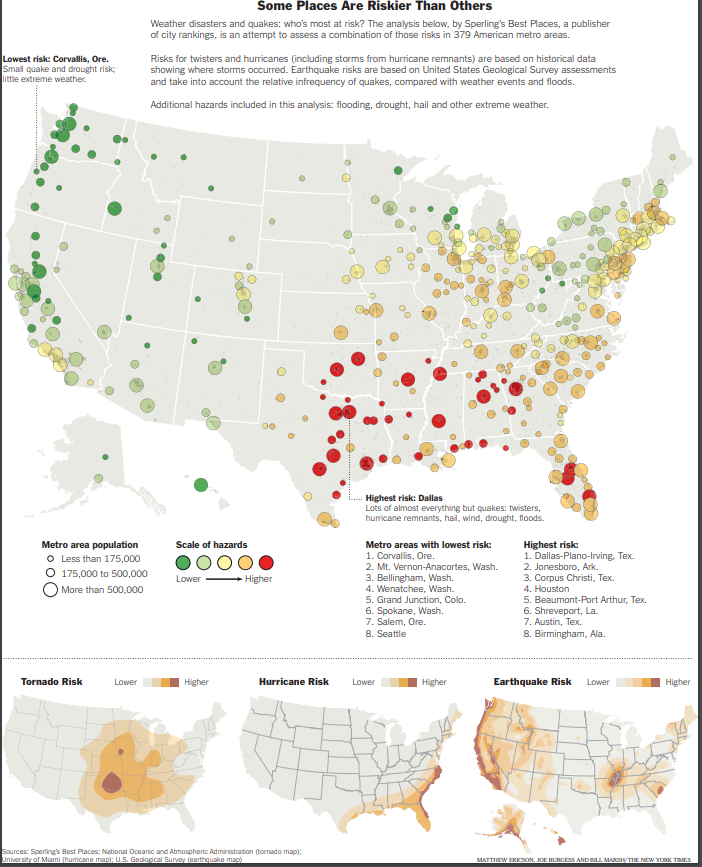 The map specifically values earthquakes lower than other disasters because of their relative infrequency, which may be why the West Coast is surprisingly covered in green circles. Though they may be infrequent, when a quake does hit, damage can be lasting. Buffalo Niagara is virtually untouched by the sprawling effects of tornado, hurricane, and earthquakes.

But, what about the snow you say?

To a certain extent, that's fair. The international image of Buffalo is one covered in snow. And we'd be lying if we told you it didn't snow here. There's also 205 sunny days a year, but yes, it snows a bit. However, not as much as people think and well… snow is fun. Snow creates a fourth season to enjoy. In Buffalo, snow allows outdoor enthusiasts exercise and bliss of activities like snowboarding, skiing, sledding, and ice skating. Yes, it snows a bit.

More importantly, when the snow does hit, we're prepared for it. Buffalo Niagara is built for snow, with the infrastructure and equipment to operate almost completely unaffected. The climate in Buffalo Niagara is actually a benefit to certain companies. Large data centers often run the risk of technology overheating and food processing companies can struggle to keep required temperatures.

When Invest Buffalo Niagara helped to attract Oath (Yahoo at the time) to Western New York, one of the big reasons for their ultimate decision was the safety from risk and temperate climate that could be used to naturally cool equipment.

Our region is well-equipped to handle snow and even storms, with a large plow network and removal operation. And, most importantly, snow melts. Hurricanes, tornados, and earthquakes do lasting and irreversible damage. It's risky business.