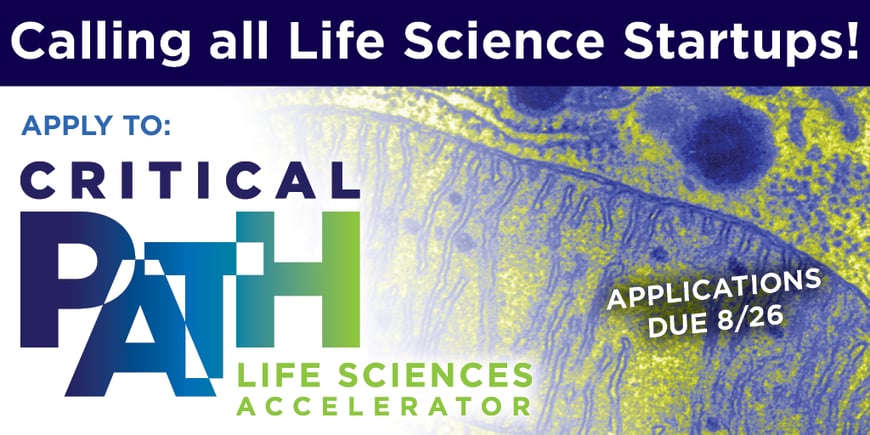 Question: Why apply to this program? Describe the benefits.
Answer: After completing the Critical Path Life Sciences Accelerator program, founders will be ready and confident to sit down with a group of life sciences investors and take them through a comprehensive analysis of their business. You'll experience mock board meetings, build a network of mentors, hear feedback from sector experts, determine your regulatory pathway, and actively solicit feedback from current/potential customers. This program is designed to take you from a company that can offer a great 10-minute pitch, to one that can go into a two-hour deeper dive with smart investors and knock it out of the park. Additionally, participating founders will give and receive coordinated feedback from a selected group of their peers as they go through the program together.
Question: Who should apply?
Answer: Just about any life science company that is actively seeking angel/venture capital to support its growth. Applicants are limited to those headquartered in 27-county LaunchNY operating territory (http://www.launchny.org/who-we-are.html#whoweserve).
Question: How do I apply for the program?
Answer: Applications are OPEN NOW! Simply click here to Apply online. But make sure to complete your application before the deadline on Friday August 26!
It's FREE to apply! Start your application!
Question: Why is an accelerator program run through VilCap Communities different than other accelerators?
Answer: Village Capital is a global leader in entrepreneurship and one of the key contributors to Steve Case's Rise of the Rest Tour that made a stop in Buffalo last year. Critical Path is a direct result of Village Capital's exposure to our region's budding ecosystem and targeted investments in life sciences.
Village Capital's method of peer-selection and venture development reliably identifies the most promising ventures, providing an efficient and inclusive alternative to conventional due diligence.
To learn more about Village Capital and their peer-selection investment model, click here.
Question: Who is going to facilitate the program?
Answer: One of the most important benefits of Critical Path will be its facilitator: Holly Hillberg. Holly's track record speaks for itself in the positions she's held: VP of R&D for Johnson & Johnson, as well as Chief Technology Officer and Chief Marketing Officer at Carestream Health, after leading the successful spinout of Eastman Kodak's medical imaging division and forming Carestream. Holly's management and industry experience are integral pieces to Critical Path and companies should be chomping at the bit to access some of her vast expertise.
Question: What should I expect from the program?
Answer: You should expect a huge return on your investment of time. Critical Path combines a highly specialized curriculum with top-level experts, from both Upstate NY and across North America, serving as mentors. This program will ask a lot of you, in the form of long days during the workshops and homework assignments as well. But coming out of it, you will feel far more confident and positioned to raise the capital needed to take the next step and reach your goals.