The technology design & development industry is ready to boom in Buffalo Niagara.

Buffalo Niagara features:

• 47 colleges and universities within 100 miles of downtown Buffalo

• 7.2% growth in millennial population (National average = 5.4%)

• Access to 6,200+ software developers within 60 miles (U.S. only)

• Cost of living on pace with the national average, significantly lower than competitive metro areas

• 80,000 miles of fiber optic lines, the fifth best-equipped region in the world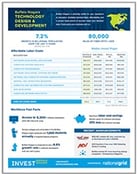 Technology design & development one-sheet
While the industry in Buffalo Niagara is ascending, you don't have to take our word for it. We assembles some top names in Buffalo tech for a round-table on the viability and future of their industry.
Contributors include:
Adam Stotz, Chief Technology Officer, TROVE Predictive Data Science
Clark Dever, Serial Technology Entrepreneur
Lena Levine, Founder & Creative Director, Lena Levine Studio
---
What is Buffalo's greatest strength for tech design & development companies?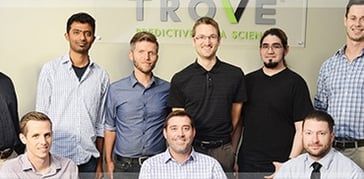 Adam Stotz: For employees, I think Buffalo's greatest strength is the lifestyle that Buffalo can offer with the cost of living that we have here. There's a lot of investment going into downtown, and employees don't have to plan their lives around rush hour traffic. A work/life balance is important in a high stress startup environment and Buffalo is a great area to raise a family. For our company, the NYS incentive programs are extremely helpful, and for our investors, we can make each dollar of that investment stretch longer than if we established ourselves in what would be considered the big startup hubs. For our city, I think this goes back to the old adage, "if you're not the first to do something, do it better, or do it cheaper."
Clark Dever: First, it still has a very reasonable cost of living when compared to other major cities, so if you have a venture funded company - the runway goes further and your employees can live at a much better standard of living then they'd achieve elsewhere. Buffalonians have a puritanical work ethic, a deep love of their city, and a tightly knit community that allows you to quickly meet the important decision makers across industries.
Beyond those advantages, we have a great set of colleges that are highly augmented by a grassroots DIY culture. Evidence for this self-taught/self-organized approach to learning can be found in the number of meetup groups and community organizations that are focused on different types of entrepreneurship, technology, and design. Per capita, I believe we have a better grass roots startup scene that almost any city other in the country with the exceptions of SF, Boulder, and NYC.
Lena Levine: Buffalo is a big playing field with a lot of opportunities. There are so many niches in the service and product spaces that are unfilled. You can start a business in Buffalo or move your existing one and be the first company that does drone ice cream delivery (I'm dreaming here, but you get the idea).
It's easy to stand out in Buffalo especially if you're offering high-quality service and deliver on your promise.
Why has your company found success in Buffalo Niagara?
Adam Stotz: Internet forums, collaboration tools, the open source movement, these are all things that are removing the regionalization of being able to work on cutting edge tech or work with top level talent. Our relationships with local universities have provided us with some talented young people to grow our workforce.
Clark Dever: One thing that has helped all of the companies that I've worked with is our business community. The startup ecosystem is extremely collaborative, founders talk open and honestly with each other about their problems in order to derive solutions, they continuously provide referrals to each others companies, and the partner together to help achieve profitability. The impact of this level of mutual support and communal knowledge sharing cannot be understated. Even when companies face layoffs, the community bands together to reemploy those individuals; and most importantly these actions come from an altruistic place. That level of community involvement and social responsibility isn't something you see in every market.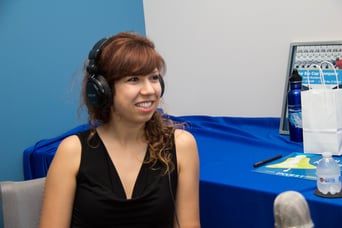 Lena Levine: My company is headquartered at the Innovation Center which has become a hub for tech startups and innovative companies in the last few years. The trifecta of such organizations like 43North (Business Plan Competition), Z80 Labs (Business Incubator), and Dig (Coworking space) created a unique opportunity for many entrepreneurs to share the same space which led to many great ideas and collaboration opportunities sparkling from the talks by the coffee machine or during the happy hours.
Innovation Center is also a part of the NYS Innovation Hot Spot program that offers tax incentives for qualifying companies. I've been a part of this program myself which helped to reduce financial stress and allowed me to reinvest saved dollars back into my company growth.
What support is available to tech companies/what support networks have your leveraged?
Adam Stotz: Early stage support networks are abundant. Invest Buffalo Niagara, for example, helped broker our relationship to STARTUP-NY. Although we took a different path, incubators and competition prizes like Z80 and 43N, as well as mentorship and seed stage investment networks like LaunchNY and Buffalo Angels, give entrepreneurs a chance to get their ideas off the ground. Now that we've graduated the early stage with revenue and established product, our move to the BNMC Innovation Center has been tremendous. What they are trying to do with establishing a whole campus culture around innovation is exactly the right environment for TROVE.
Clark Dever: My companies have been supported by InBN in a variety of ways through their understanding of the regional ecosystem and introductions to key members of the community. The team at BN has provided us with help doing site evaluations for new offices, managing the RFP process with the landlords and scheduling visits when our key personnel were in town. They've also provided a critical pathway to understanding and benefiting from the state of New York's economic development initiatives. When I bring a new company to BN, they take the time to understand our positioning, our products, our needs, and the future goals; then they work with our team to develop a project that helps us achieve those objectives.
Lena Levine: We joke that in Buffalo everyone knows each other. Which is completely true. If you're looking to connect with someone, there is a 99.9 percent chance that someone in your personal or professional network knows that person, and what's most importantly is willing to make an introduction. That's one of my favorite things about Buffalo, and I do my best to extend the same courtesy and help out as much as I can when someone reaches out to me. After all, business starts from the relationships, and that's one of the support networks we are as entrepreneurs can't overlook.