Back in October, 90 top designers, developers, and data scientists descended upon Buffalo, hailing from 29 different countries around the globe.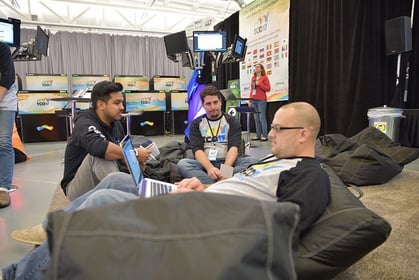 The group came for Topcoder, the prestigious global coding competition which was hosted in Buffalo in 2017. With those competing for coding supremacy also came top technology design and development company officials. They scout the competition for top talent and, while in town, got a glimpse of a growing cluster of companies and resources right here in Buffalo Niagara.
The Western New York technology design and development industry is on the cusp of combustion, with top talent, affordable office space, convenient commute times, and accessible amenities. Topcoder, which was hosted in Washington D.C. the previous year, is a symbol of the burgeoning local tech scene.
"Our partnership with Topcoder introduces our local companies to another way of accessing hard-to-find talent and increases the diversity of talent through its crowdsourcing model," said Sam Marrazzo, Chief Innovation Officer for the Buffalo Niagara Medial Campus, Inc. (BNMC).
Tech companies rely on talent. Buffalo Niagara has access to 6,200 software developers within 60 miles, just in the U.S. There's also a large talent pool just across the border in Canada, which is accessible via the TN-Visa. The region is projected to see a 6.6% growth rate in software developers over the next five years. As the talent continues to come, so should the companies.
Median Annual Wage Comparison
| | | | | |
| --- | --- | --- | --- | --- |
| | Buffalo Niagara | San Francisco | Philadelphia | Boston |
| Software developers, applications | $80,974 | $132,662 | $99,382 | $109,158 |
Another strength of Buffalo Niagara's talent pipeline is the support groups available for companies to recruit from. The region has a passionate and supportive workforce.
"Since relocating to Buffalo, something we've really appreciated is the sort of blue-collar tech mentality," said Brandon Burke, co-founder of LegWorks.
Below is a short list of support organizations throughout Buffalo Niagara, their membership on meetup.com, and an excerpt of their self-stated mission.
Python Buffalo
364 members
This group is for bringing together people in Buffalo, NY who are interested in everything Python. Whether you are a beginner or expert please join for meetings and presentations about new and old python techniques and technologies.
607 members
StartupTech Unleashed Inc was created by the need for new and existing business startups to help foster growth and nurture ideas from the conception stage to global domination. We will be focusing on Startups, Technology & Social Innovation.
103 members
We are a group of developers from several different communities. Our meetups are not necessarily language or tech stack specific. Whether you are a backend, frontend or full stack developer, engineer, or specialize in another area of web development, join us.
860 members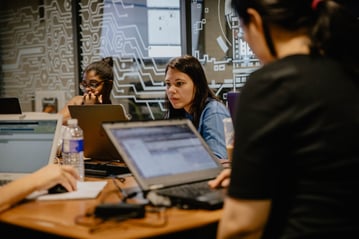 It can be intimidating for women to learn and ask questions when they are in an extreme minority. While open and welcoming, today's budding developer community is up to 91% male. There isn't a comfortable place where women can learn at their own pace and not be afraid to ask "stupid questions." We decided it was time to provide a place where all questions are OK and everyone can learn in a supportive environment. Our courses focus on coding, leveraging existing technology, and having something to show for it (aka building sweet websites). Our vision is to create a network of empowered women who feel confident in their abilities to code and build web and mobile applications.
598 members
The Game Space aspires to create a place where artists, musicians, coders, and designers can freely collaborate and create games of all types.
577 members
JavaScript Manifest Destiny: Whatever program can be written in JavaScript eventually WILL be written in JavaScript. - Isaac Schlueter
Buffalo AI (Artificial Intelligence)
224 members
Discussion of all kinds of cool technologies revolving around AI such as Siri, Alexa, Google Home etc and the algorithms surrounding them.
452 members
Calling all user experience designers, product designers, UI, app or web designers! Let's get together and talk shop.
500 members
Every Tuesday at 8 a.m. there will be geeks, business people and techies talking about the blockchain at Rowhouse Bakery & Restaurant located in the heart of the Downtown Buffalo.
903 members
[Bringing] more people from more varied backgrounds into the community and give them an opportunity to learn what the web dev community at large does to tackle the shared problems that might not be language specific.