In today's economy, we know that people, and specifically the talents they bring with them, are the most valuable asset to a company. And retaining that talent can often be even more critical to continued success.
Gallup pegged the turnover rate of employees in 2017 at over 26%. The Buffalo Niagara turnover rate is 15% less then other comparable metro regions. Gallup also estimates the cost of replacing those employees at up to two times their annual salary.
And, a "gray wave" is predicted to move through our manufacturing sector as experienced workers retire (another trend exacerbated by the pandemic). There is immense wisdom begging to be passed down to a new generation of innovators.
Of course, in every challenge lies an opportunity. Proactive engagement with area colleges and universities can be a great place to start for both attracting and retaining that talent.

Co-Op
A well-executed co-op will result in the student having worked closely with potential mentors at your company. Your company's culture is known by the student. Your management team will understand the potential hire's ambition, motivation, and dedication. As result, co-ops can greatly mitigate risk of turnover. Co-ops are well-established in Buffalo-Niagara (9 different programs offered in the University at Buffalo's Engineering department alone).
Capstone
If your goal is to identify strategic thinkers to support innovation and process pivots, look no further than capstone projects .
Capstone projects are closer to bringing in a consultant to make suggestions than hiring an employee. The cost is usually just the time your staff interacts with the student. Rather than being compensated by hourly pay, students completing a capstone receive academic credit. While they may not be on your payroll, students completing capstones with your business should receive similar guidance and support. Agree upon a project plan with frequent dialogue and milestones. Focus additional attention on providing constructive feedback on the final project report and help the student understand what next steps would need to be taken to take action on any recommendations they make.
"The primary outcome of this class is to experience working on an industrial engineering project in a manufacturing facility and industrial setting," said Dr. Harrison Kelly, Associate Professor of Practice, University at Buffalo School of Engineering and Applied Sciences.
Internships
Internships are the most commonly featured item on the menu of student engagement. Clear out those legacy misconceptions of what interns can do for you - no coffee runs please! Develop an internship plan that matches students with mentors who can best support their assigned work. Create a project with frequent feedback and clear milestones. Confer with a lead faculty member overseeing the student to ensure their current skills provide the necessary foundation for their assigned tasks.
Job shadowing
Job shadowing is the workforce equivalent of window shopping. Students observe employees work to provide real-world examples which are invaluable to connecting studies to applied uses. A fairly light lift, offering job shadowing opportunities is a great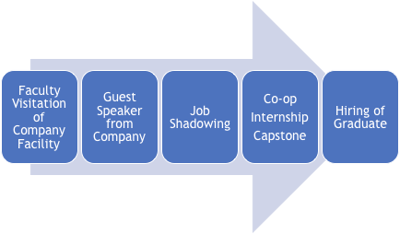 introduction to students who could become future interns. Pro tip: Schedule job shadowing days when you have interdisciplinary team meetings. This provides students with the full spectrum of the type of roles your organization can offer them.
Where do I start?
The Buffalo Niagara region is a college town! We boast 21 colleges and universities within the 8 counties of Western New York. Your best bet is to connect with the Western New York Association of College Career Centers (WNYACCC). A single-point-of-entry for college career centers across our region, you are able to submit an internship opportunity to this consortium and have your request routed to the colleges who can meet your talent needs.
"Employers can register with WNYACCC to post their internship opportunities (and jobs too). When posting their internships, employers will be able to select their preferred level of education or major, which institutions will use to decide if the posting is a good fit for their students," said Katie Marshall, Director of Career Services, SUNY Erie and Employer Relations Co-Chair of WNYACCC
Make sure to give frequent feedback, first on your expected skills when finding a student and then on the active project, both to the student and faculty member. Doing so will result in both a prepared future employee and an aligned academic curriculum for future students.