Buffalo Niagara has a rich history of manufacturing success. It's also a long history.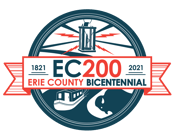 In celebration of Erie County's bicentennial birthday, we wanted to commemorate the achievements of three longstanding manufacturers in the county that continue succeeding and employing people today.

Tapecon
Tapecon creates medical and industrial applications and provides OEMs specialized converting and printing. The company started in 1919 and is on its fifth generation of leadership.
"We've got people that are willing to embrace our culture and one of those core values is all about flexibility and adaptability. We've got people embracing the challenge to learn something new and we're able to scale up," said Steve Davis, President of Tapecon in a previous blog with Invest Buffalo Niagara.


Eastman Machine
Eastman Machine Co., a machine manufacturer, among other disciplines, is headquartered on Washington Street in downtown Buffalo. The company is over 125 years old, originally introducing the first electric cloth-cutting machine. Now in its fifth generation of leadership, Eastman Machine is undergoing yet another expansion in Western New York. This time, they've acquired a neighboring property to expand capabilities and create a demonstration room.


Sealing Devices
Sealing Devices is a family-owned manufacturer first started in the Erie County home of the late Terry Galanis Sr. in 1963. The Terry Galanis Sr. Leadership Award for Multi-Generational Family-Run Businesses was established in his honor last year after passing at age 102. Terry is remembered for his strong leadership that created an environment where employees are treated like family and look forward to coming to work.
Today, the company employees around 200 people. Company leaders Terry Galanis Jr. and Elizabeth Galanis-Miller joined our podcast, Bell Ringer, to discuss family business planning and the benefits of building a company in Buffalo.