Buffalo Niagara's proximity to the Canadian border sometimes makes it easy to forget our communities are in separate countries as we visit, shop, and attend sporting events across the border with relative ease. However, as Canadian business owners consider Buffalo Niagara for U.S. expansion, it is important to remember there are many HR differences between our two countries. Understanding these differences is key to finding and retaining good talent and successfully running operations on both sides of the border. We cover many of these differences and other HR related topics in our Canadian Guide to Business Expansion Vol. 3: Workforce and Workplace but I thought I'd highlight a few of the major differences between HR in the U.S. and Canada below.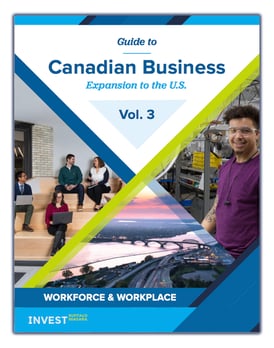 A U.S. employee can be dismissed without minimum notice or "pay in lieu of notice" (severance).

New York State is an "At will employment" state, as are many others in the U.S. This allows an employer to dismiss an employee, usually for good reason, without the obligation of paying severance or minimum notice as is required in the Ontario Employment Standards Act (ESA).
There are no minimum vacation periods and mandatory holidays in the U.S.

But it will be hard to find good employees if you're not offering any! You can determine which holidays to offer and how much vacation time to allot based on your company's needs as well as your industry and employee expectations.
Medical Insurance is acquired differently in the U.S.

Canadian business owners considering expansion in the U.S. should work with U.S. HR professionals to understand how health insurance in the U.S. works, what is required of employers, what costs are associated with employee health insurance, and what employees will be looking for when on the job hunt.
These are just a few of the HR differences between the U.S. and Canada and we cover more in our Guide. Although there are many differences, our region is full of experts that help Canadian companies manage their U.S. HR needs as well as Canadian companies who've successfully expanded across the border, hired and retained great workers, and continue to grow on this side. So read through the Guide and give us a call. Our team is ready and eager to help!