If you are like our team, you're probably finishing up holiday shopping (Or, like some of us, just starting. Whoops). Below is a list of some of our favorite spots in Buffalo Niagara. Many of these places produce handmade, gift-able items for every Buffalover here and beyond. Enjoy and don't forget to tell us your favorite!
---
Olivia Hill – Business Development Specialist
Molly + Kate in the Village of Hamburg. It has the perfect mix of home décor, accessories, and clothing. It was one of my first stops this holiday season!
Alan Rosenhoch – Director of Business Development
Without a doubt it's Thin Ice in the Elmwood Village. I've been able to find creative (and often locally-made) gifts for friends and family of all ages.
Greg Pokriki – Content and Digital Marketing Associate
Vidler's brings out the inner-child in everyone. I don't go often, which keeps the mystique of an old five and dime alive.
Casi Hall – Graphic Designer
I like to pick up unique handmade gifts at the Western New York Book Arts Association (WNYBAC). It's a studio open to regional artists with a letterpress and craft supplies and tools. I just love the opportunity to support other artists and the shop itself is so cute. Right near the Electric tower on Washington St.
Lorrie Abounader – Business Development Manager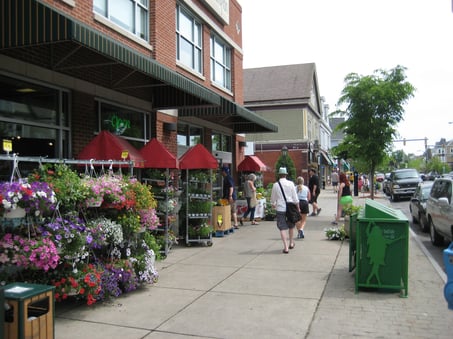 Whenever I buy gifts for clients, Jenss Décor has a great selection of Buffalo themed items that are elegant and useful. If I'm looking for gifts that have more of a funky, eclectic feel, Neo on Elmwood has a range of items that fit many tastes.
Carolyn Powell – Business Development Manager
Federal Meats is great, especially around the holidays. I love stopping in for something fresh.
Sarah Larson – Marketing Manager
I love the Marilla Country Store! It's the perfect place for small gifts, or really whatever you need.
Jenna Kavanaugh – COO
Whether looking for great stocking stuffers or the perfect gift for someone special, I always find unique gifts at our museum stores. Check out Burchfield Penney Art Center, Darwin Martin House, Albright-Knox Art Gallery, Buffalo History Museum, Buffalo Museum of Science; and if you don't find just the right item, memberships make great gifts. Check out Visit Buffalo Niagara for a full list.
Alexandra Williams – Executive Assistant/Investor Relations Coordinator
Half & Half Boutique. Half & Half is a unique little boutique located in the heart of the Elmwood Village. They carry all types of women's clothing & jewelry, along with great gift items and fun knickknacks.