Hop on an American Airlines flight in the next few weeks and you'll find some reading material in the seat back pocket that hits close to home.
Spotlight, the American Airlines in-flight magazine, did a full feature on Upstate New York in its most recent issue. At the forefront: Western New York and the Buffalo Niagara region.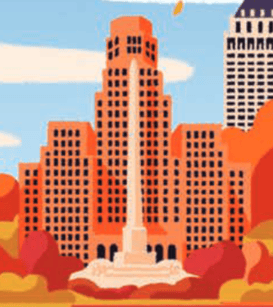 Invest Buffalo Niagara President and CEO Tom Kucharski was interviewed for the story. He summarized our revitalization saying, "Rather than looking where the ball was, we're looking where the ball is going." That forward-thinking mindset is what has propelled Buffalo Niagara and was a consistent message throughout the piece. Starting from Buffalo's origin story with the Erie Canal, you see a thread of Buffalo Niagara as a region constantly improving, culminating into the regional renaissance we're amid now.
The cover features a great illustration, using Niagara Falls as the focal point. The Falls are highlighted multiple times throughout the magazine as both a driver for business through its green hydropower and tourism from its beauty.
The magazine also focuses on Upstate New York's technology revolution, led by Invest Buffalo Niagara win Bak USA, a company manufacturing tablets right here in downtown Buffalo. Our educational pipeline for the tech industry is also highlight, including Buffalo Niagara's 23 colleges and universities and those beyond our boundaries, including the University of Rochester's highly acclaimed programs.
Jeremy Jacobs, chairman of Delaware North was featured as an Upstate trailblazer. Jacobs was born and raised in Buffalo.
Of course, the audience being primarily tourists, the magazine highlighted the great quality of life in Buffalo Niagara, too. Our professional sports teams and passionate fans were part of the magazines must-see Upstate tour.
Luckily, you don't have to hop on a plane to read the magazine. We have a digital copy linked for you below. But, if you do happen to be traveling for the holidays, flip it open and encourage the gentleman that stole the aisle seat from you to do the same.