Over the last few years M&T Bank has committed to a technology transformation. In doing so, M&T Bank committed to creating 1,000 tech jobs in Buffalo Niagara, coalescing its new and existing tech talent in the newly redeveloped Seneca One Tower in downtown Buffalo.
While many companies across the globe are making a similar transition to technology – either by choice or necessity – not all of them are doing it with the same community-focused approach. In addition to its own embrace of the technology revolution, M&T Bank also established its Tech Academy, again in Seneca One Tower – the now de facto home of Buffalo's booming innovation economy.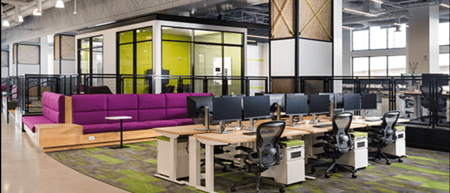 The Tech Academy, while established and run by M&T Bank, is a community-wide asset. It serves as a home to train, re- and up-skill, and eventually hire the next generation of tech talent. And the results will benefit not only M&T in its hiring efforts, but also all other tech companies within Western New York as well as the community able to take advantage of its training programs.

An April Buffalo News article stated that over 500 community members had signed up for the Western New York Tech Skills initiative, an opportunity for attendees to gain free tech training (though virtual due to COVID) and an early program of the Tech Academy.
The benefits of the Tech Academy to other companies are obvious. Odoo, a SaaS company headquartered in Belgium, was operating a U.S. East Coast search for its expansion when leadership was introduced to M&T Bank and its team. The conversation between the two tech companies is sited as one of the reasons Odoo chose Buffalo for its expansion, now located within Seneca One Tower and hiring even more rapidly than its initial high promises.
You can listen to our podcast with Odoo's Buffalo lead Nicholas Kosinski, in which he talks about the reasons he and his company leadership were convinced of Buffalo.
Before the pandemic, members of our team had conversations with European tech companies abroad interested in relocating to Western New York. Even in those conversations, many of the questions were about M&T Bank's commitment to Buffalo Niagara and more broadly about the Tech Academy's benefits for neighbor companies.
The word of Buffalo Niagara's renaissance is out and spreading far. The innovation economy, including established tech companies and scrappy startups, is a large part of that resurgence. And the Tech Academy will help fuel it further – both for companies already within Western New York and those soon to join, enticed by our low cost of business, great quality of life, top talent, and ecosystem resources.