Many businesses are utilizing these unprecedented times to strategize on business growth and innovation. Growing your business – whether it is through the development of new products, entering new markets, or organic market opportunities – often requires additional staff and an increased physical footprint. Here are some important considerations companies should have top of mind before the business expansion process begins.
1. Plan accordingly, timing is critical
Timing and organization is incredibly important as companies engage in business expansion. It is critical to ensure all incentive applications are submitted before making a final location decision. Incentives are exactly that – enticements to do something. Incentive programs exist as a means to "close the deal" by making your project more competitive in our region. Incentive awards intend to lower operating costs lower, abate taxes, or rebate certain spending outlays. Incentive programs exist to encourage business expansion in our region, not to reward it afterwards for doing so.

2. Be realistic with project size and scope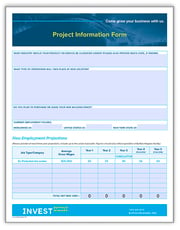 Most economic development incentive programs utilize job creation and capital expenditures as program eligibility requirements and/or incentive award criteria. Engaging with incentive providers and completing the various applications is a process that should be done strategically and with guidance. Job creation and capital expenditure estimates reported on incentive program applications should be realistic and aligned with your business plan.
3. Don't forget about financing
In addition to traditional incentive programs, many economic development organizations administer low interest loan programs that can greatly reduce the cost of borrowing. Should a business expansion project face a funding gap, debt financing is available through many economic development organizations at very favorable rates. Additionally, organizations like Invest Buffalo Niagara may facilitate introductions to equity financing opportunities in Western New York and beyond.
4. Connect with Experts
Finally, connect with field experts. Seek the advice of professional economic development organizations, like Invest Buffalo Niagara, that specialize in helping companies grow their businesses. We offer a wide range of services and provide expert advice, all free of charge. The involvement of economic developers also allows for a single point of contact to make sure your business expansion project receives all the support it requires, from site selection and incentives coordination, to workforce recruitment and training, and much more.