ReCharge NY is one of the state's signature economic development initiatives. Through the program, qualifying businesses and nonprofits can focus on retaining jobs and strengthening their operations by controlling energy costs with stable, predictable pricing.
Think about what your organization could do with the savings; hire additional staff, deploy an e-market strategy, invest in R&D, or expand production. ReCharge NY has generated savings for companies across the state like Moog, General Mills, Mayer Bros., Fieldbrook Foods, and Confer Plastics that has enabled them to invest those savings into their businesses.
410,000 jobs and $21 Billion in capital investment commitments are currently tied to the ReCharge NY Program and you can be too! It's as simple as filling out the New York State Consolidated Funding Application https://apps.cio.ny.gov/apps/cfa/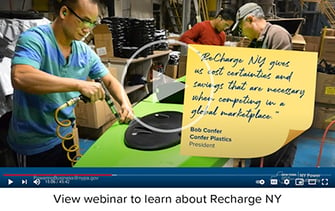 Although the ReCharge NY program has a rolling deadline throughout the year, the next application deadline is June 4, 2021 for consideration by the NYPA Trustee meeting July 27,2021.
Retail, sports venues, hospitality accommodations, and government entities including public colleges and hospitals are not eligible for the program however, both large and small businesses and nonprofit organizations are eligible to apply.
Invest Buffalo Niagara is here to help businesses in New York continue to thrive and grow. Our team is ready to help you with your expansion and incentive questions.