In September, my travels took me to Seattle where (outside of my investigatory work traversing Amazon's HQ1 and urban campus) I participated in the Fall Forum hosted by the Site Selectors Guild, the premiere professional association of global site selectors.
The 2017 Fall Forum had a distinctive focus on sustainability in site location decisions, which was fitting for a meeting held in the Pacific Northwest. The various panel discussions and breakout sessions also focused on practical lessons learned from real economic development projects.
After opening remarks by Washington Governor Jay Inslee, an executive panel of business leaders discussed sustainability considerations as they relate to corporate philosophies, talent acquisition and retention, and changes in the workplace to maximize efficiency.
From there, a series of five industry breakdown sessions allowed participants to hear directly from Guild members on "best practices" and "lessons learned" from actual projects led by Guild members. The breakout sessions included:
How to Win Projects from Consultants: Do's and Don'ts of Proposal Submissions
This Site Selection Process and Examples of Economic Development Best Practices from Consultants – Manufacturing
Availability and Development of Skilled Workers
The Site Selection Process and Examples of Economic Development Best Practices from Consultants – Distribution & Logistics
Incentives and How to Position Your Responses for Best Results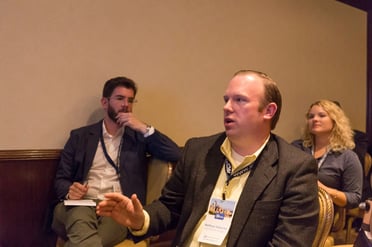 I attended the first three sessions in the list above, all of which provided extensive dialogue between participants and site selectors, and some excellent, thought-provoking questions (especially from this participant).
On the second day of the Forum, a two-hour Table Talk Q&A session afforded participants the opportunity to ask pointed questions to Guild members in a small group setting. It allowed for increased interaction with the site selectors and allowed for a great deal of candor and comradery.
Site selectors are extremely important deal influencers in economic development and their clients are often large companies whose projects entail large job numbers and capital expenditures. Invest Buffalo Niagara has worked deals with many members of the Site Selectors Guild and participation in events such as the Fall Forum are valuable opportunities to remind site selectors of the various benefits and advantages available to business attraction projects in our region.
We will continue to seek out opportunities and outlets to create and enhance positive, professional relationship with members of a small, but important, community of site selectors.